Art With A Beat, Capsis Style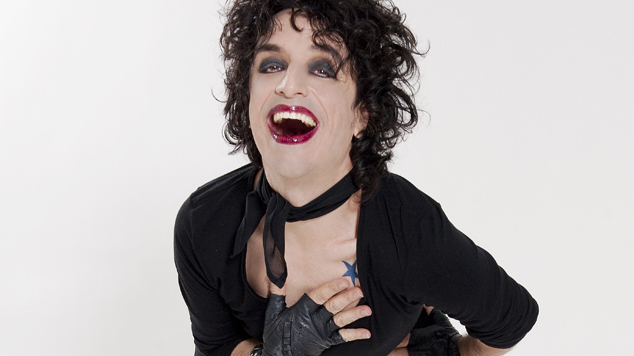 Edgy. Evocative. Commanding. These are just some of the words that come to mind when describing the mastery of Paul Capsis. In the 'slice and dice' world of musical theatre, Capsis is in total control of his craft especially on stage with his trademark power and amazing vocal range. Bolt the chandeliers down boys, this kid can really belt out a tune.
OUTinPerth got a chance to chat to Capsis, who is half-way through a national tour of his one man play, Angela's Kitchen (nominated for a 2012 Helpmann award for best actor in a play).
'Shadow Me, Shadow You (1991) at the Subiaco Arts Theatre was the first time I performed in Perth and loved it, pity that the play never travelled as it played to good houses in its run,' he said with muffled tones munching on morning toast. 'I'm itching to get back to play in Perth and so is my gifted arranger/pianist Andrew Patterson. I'll be playing a 20 song bracket interlaced with dialogue that explains the lyric and why it's placed there. Usually I do a 15 song catalogue, but this time I want to push the boundaries and give the audience a "thrill ride". One of my favourites in this set is a version of Back to Black done with a Billie Holliday feel', he gestured.
Fitting in with the theme there will be rock classics from Lou Reed, Patti Smith, Bowie, Prince to name just a few. I mentioned that the last time I saw him at the Perth Arts Festival eons back, that he strutted the stage like a possessed Mick Jagger, edgily I thought this could either be taken as a compliment or a punch on the kisser (albeit down the phone), but luckily it worked as a compliment. 'Yip, Jagger I love his work and originality, he's definitely up there as a God in my books' he said.
Intensely proud of his Greek/Maltese heritage, Capsis has used this badge as stepping stone to forge other original material, most notably in his current touring play, but the enduring character of Johnny in the ground-breaking Australian film Head On (1998) is one piece on celluloid that has stayed in my head. I was keen to get Capsis's collective thoughts on the role and how that has shaped his career.
'Head-On was my first dramatic cinema role and one that most people remember. It was my first big break. I really enjoyed the process of film and deeply admired just how driven and passionate Ana Kokkinos, the director was of the work. It was her first feature film as well as mine. Anna had very clear direction as to how the character, Johnny should be played, but if the role came up again I would play the character differently. Guess I see the world differently now,' Capsis quipped.
Guess that's the difference between celluloid and live theatre. One is enduring and the other is but a past memory. Nothing can come close to a live performance, being locked in the same room as an artist like Capsis, is a senses pleasure trip. A consummate performer, a microphone and a lasting memory, this is what Capsis delivers…..and he does this in spades!
Paul Capsis plays the Art Bar at The Art Gallery of Western Australia on Thursday October 11.
Terry Larder