Australian Olympian Comes Out As HIV+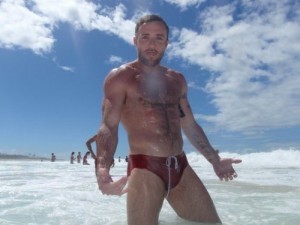 Olympic Silver Medallist Ji Wallace has revealed himself to be HIV+, being inspired to go public by American diver Greg Louganis – a fellow HIV+ athlete.
The openly gay trampolinist felt compelled to speak openly about his condition after TV journalist Anderson Cooper came out, and following Lougani's discussion on living with HIV on CNN.
Wallace told Star Observer that he had contemplated coming out as HIV positive for a length of time –
'I have never publicly disclosed this before but felt inspired by [the] interview… and by Anderson Cooper's "coming out" letter last month describing "value in being seen and heard" in the face of disturbing violence, bullying, persecution and condemnation by peers, colleagues, government officials and worst of all family and friends', he said.
Coming out as gay in 2005, 35 year old Wallace emphasised the importance of being open about your status – 'Being seen does have value… A voice does have value. I have the support of my boyfriend, my great friends and my loving parents.'
'I felt inspired to write. I too am an Olympic medal winner living with HIV'.