Benjamin Law – Gaysia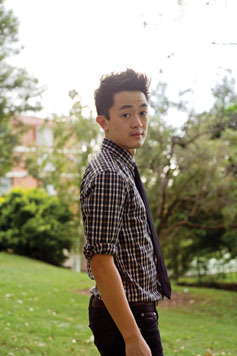 Benjamin Law is one of Australia's most surprising young writers to date. His second book, Gaysia: Adventures In The Queer East, is a brilliant tour de force through the Asiatic region. What makes this read a must is Law's sharp wit, his astounding sensitivity and his crisp coolness. He took a moment to chat with OUTinPerth about his superb sophomore adventure.
What can readers expect from this book?
It's supposed to be a bit of a travel adventure, where I take you to seven different Asian countries and look at seven different queer issues. And like a travel adventure, you're going to encounter people you didn't expect to meet: transsexual beauty queens in Thailand, gay men sham-marrying lesbians in China, and an "ex-gay" religious preacher in Malaysia … who seems suspiciously super-gay to me.
What was your aim with this text?
Before I was writing Gaysia, I was reading a lot of news stories about queer issues happening in Asia: the LGBT rights movement in India to decriminalise homosexuality, or skyrocketing HIV rates in Myanmar (Burma). And because I'm not a daily news journalist, my instinct as a writer is to ask: "What are the human stories here?" Basically: as a gay and Asian – well, ethnically Chinese – dude myself, I wanted to know what it was like to be gay and Asian in Asia itself.
Can you describe the tone you used throughout the book? It appears quite innocent at times, but you also do meticulous research.
I really like the works of writers like Susan Orlean and Jon Ronson, Ariel Levy and Devin Friedman. They explore such goddamn complicated topics, but they keep the tone light and readable. And I try to keep it funny too. As Oscar Wilde once said, "If you're going to tell people the truth, make them laugh, otherwise they'll kill you."
What is the core lesson this adventure and book taught you?
You could travel the world, and you still won't find a perfect place in which to be queer. When I was writing the pretty-depressing chapter on Malaysia, where I interviewed dozens of people who were trying to "cure" themselves of gayness, I spoke to my boyfriend who was living in New York. And even though this is the city where Stonewall happened, New York was the first city in which my boyfriend had "faggot" yelled out at him from a moving car. Nowhere's perfect, and we've got work to do all over the world, in different ways. Do you think you'll be back on the music scene for the long run now?
What's next for Benjamin Law?
More writing. We're adapting The Family Law (my first book) for television at the moment. And I've got a few book ideas up my sleeve …
Gaysia: Adventures In The Queer East is out now through Black Inc Books.
Scott-Patrick Mitchell