S Club Bring it All Back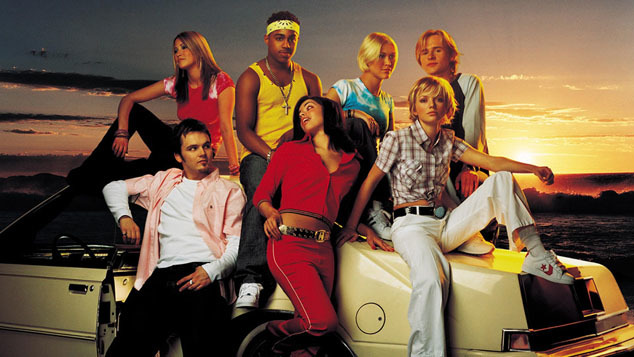 THERE is no doubt that the nineties are making a comeback, and it makes sense really, as the old tends to become chic again. This reporter is not ashamed to have purchased tickets to the Backstreet Boys and New Kids on The Block, was recently spotted dancing to Barbie Girl and took a ride on the Vengabus.
The bubblegum-pop loving kids of the nineties are no longer ashamed of their past and have matured enough to laugh atprevious musical choices, jump on the D-floor and get bootylicious all over again.
Known simply as S Club and minus four of the originals, Bradley McIntosh, Jo O'Meara and Paul Cattermole are headed down under to perform shows in our capital cities. JOE CASSIDY caught up with Brad and Jo and nearly burst in a pre-teen explosion of fan-boy love.
The pair plus Cattermole have been performing at clubs, pubs and universities around the UK and Ireland for the past three years, 'it's basically just me Brad and Paul jumping up on stage and singing the songs people know and just really enjoying ourselves and I think that really translates to the audience', O'Meara says.
McIntosh relishes the opportunity to have a less hectic schedule than in the '90s, 'it's nice after the band to take stuff that wasn't too serious, not too full on, just easy. Just go to a club, have a night out, get drunk and work at the same time.'
The explosion of S Club 7 into the pop culture sphere over a decade ago had them collect four number one singles on the UK charts, a number one album and top ten singles in the US as well as a string of top tens in Europe, Asia, Latin America and even Africa. Much like the cast of uber-success Glee the troupe were not only singing and dancing, but also acting and constantly performing.
There seemed little time to relax and enjoy their success, as O'Meara explains, 'it was really quite stressful at times, simply because of tiredness, like when we won the Brit award over here we never got to go and all of us were really upset, we was always getting whisked away doing TV shows. Whereas a lot of bands just do the music side of it, and they get a bit of down time, we used to fly straight off and do a show and if it wasn't that it was a movie or a documentary. We were continually on the go.'
Yet they both admit there was certainly more good than bad, 'we've got such good memories of the different stages of our career that I don't think we would change it for the world', O'Meara says.
As for McIntosh, 'especially for me, I was 16 going on 17, just straight out of high school. Travelling around the world, meeting girls and stuff,' he chuckles to himself before O'Meara chimes in, 'Bradley you're 30 now dear and you're still the same.'
As for a moment when they had to pinch themselves? UK travelling festival Party In The Park when just before they performed in front of an audience of over 100,000 people and broadcast to three million more they found out their first single had gone to number one. 'For a first gig, the look on our faces when we were on stage, just soaking it all in', McIntosh recalls fondly.
'That and the Queen's Jubilee, we were like 'what the hell are we doing here', she's probably sitting there thinking, oh gosh,' he says with another chuckle.
The gang are all still friends and have settled down a bit, O'Meara has a four year old and McIntosh is looking to continue his producing work, having just worked on a track for Peter Andre's new album. Post-tour the trio doesn't plan any more shows, 'I think it's a good way to end to come and see you guys,' McIntosh says with a hint of nostalgia in his voice, 'it's going to be so much fun having us all together, even if there is only three of us. Three is the magic number.'
Joe Cassidy