Civil Partnerships in Perth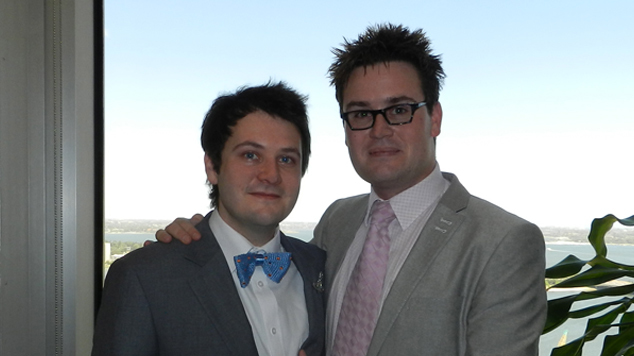 They may not have had a reception, it may have been on a Tuesday, but Tom and Ricky are officially registered as being in a Civil Partnership with one another. The Perth based couple who have been together for five years decided to legally cement their relationship, even if it meant that it wasn't recognised in Western Australia.
The couple 'tied the knot' in a building on St Georges Terrace, how you ask? Whilst sat in a boardroom at the British Consulate. Although the couple aren't technically married in either England or Australia, when British laws pass legalising same-sex marriage, the couple will automatically receive a recognised married status.
Already living together, owning pets together and functioning in a long-term relationship, the couple asked each other – 'what's next?'
'I initially for our anniversary had bought Ricky a ring. It was like, how does this work logistically? Because it's not going to work here, it's impossible. It's not recognised here', said Tom
Much of the rainbow community who come from British descent aren't aware that they can head to the British Consulate to cement their relationship; the couple explained just how easy it was:
'There's three forms, an attempt to lodge a civil partnership, a registration of civil partnership and another one just with all our particulars. It's all paid in pounds it's an amazing exchange rate at the moment so it cost $420 and it was so simple.'
So how would you go about it? Although Tom and Ricky didn't really know where to start, apparently all it took was a phone call.
'I called the most wonderful man at the British Consulate, the Consular Official here, he's really pro civil partnership/gay marriage, he loves it! He was saying that's one of the positives of his job working in the Consulate. There is so much death and destruction all the time that he has to deal with and he saw it as one of the positive things that he's able to do… but he doesn't do enough of them', said Tom.
'We were the 24th [couple] to be done since civil partnerships were introduced in the UK in 2007. It really saddened me that not many people are doing it, and there are so many people in the gay community that want to and I'm sure a lot of them are British passport holders'.
The only downside presented by the couple seemed to be the waiting game. Civil partnerships take place in the presence of the British Commissioner or the Deputy Commissioner, so waiting for them to be in Perth can be a lengthy affair 'we've been waiting for about two years. You just wait until they come and when they come they say either they're available or they're not,' said Ricky.
Two years of waiting led to four days of preparing, the couple were contacted by the Consulate on the Thursday to inform that the Deputy Commissioner was available the following Tuesday.
'Our wedding wasn't conventional, it was across a boardroom table, and at the head of the table was the Deputy High Commissioner, it was lovely. All the timing was perfect, my mum was up for a week it was her birthday on the Thursday so it was just perfect, I rung her and said would you be a witness and she was like "oh my god I'm so excited!". So we both used our mums', said Ricky.
Now recognised as in a Civil Partnership in the UK, the couple were asked if they think being legally bound offended or upset anyone, Tom's response was simple.
'I remember we walked out of the Consulate, it was Ricky and I and both of our parents on St Georges Terrace at lunchtime. Everyone was just pacing along doing their usual thing and I remember saying to them that I don't get what all the fuss is about and how this is so offensive to other people when… we've just done it! No one knew. We'd just walked out with that bit of paper.'
Nadine Walker