Embracing New Challenges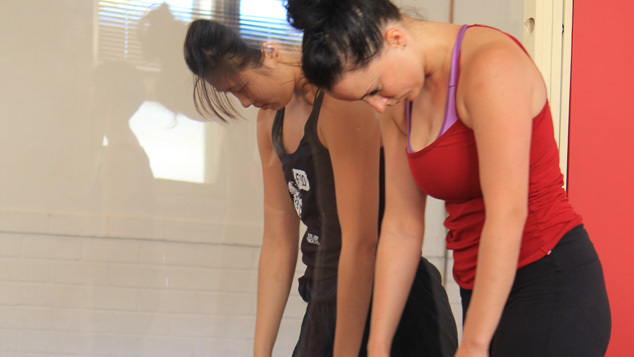 Have you ever spend a day wondering whether that one same random stranger you keep seeing everywhere you go is someone fate has decided needs to be a bigger part of your life and wondering what to do about it?
Could it be that the person you're anonymously engaging with online is actually your next door neighbour? It's these kinds of quirks of fate and communication in the internet age that dancer/choreographer Claudia Alessi is exploring in her new work for Strut Dance Theatre, In This.
Well known to Perth audiences for her multi-faceted talents in movement and dance, this show marks a movement into a director's role for Alessi. Having, as she says,
'worked so long with so many different directors and choreographers you're always looking for a way to reinvent the wheel in terms of coming up with interesting movement that is both aesthetically pleasing and, you know, movement that sort of drives you.' Alessi has now reached a point where she is ready to engage others to help her explore her own vision of movement and the collaborative creative process that she has been nurturing for many years.
In This is about embracing a new challenge in discovering how to make work 'with interesting bodies in space and interesting minds in space' from a new perspective. From being a long-time muse and collaborator for others, Alessi is now in a position to be asking herself;
'"What is it you want to say and how do you want to say it?" as opposed to "Here is a set of guidelines to someone's vision, someone else's rules, someone else's task" and making that come true for them or bringing that to fruition… Having that spark, that voice, that initial thought that comes from you as an artist  and seeing that through – that's what is really exciting for me and the next phase in my development.'
It seem entirely appropriate then that in exploring her own voice for the first time in her own full length work, Alessi has chosen to develop a performance piece that is all about communication;
'Our world of communication is so intertwined in our lives and we just can't get by without it.' She explained' In This is all about 'examining our current situation with communication how we currrently traverse through life communicating the choices we make – like how much time we spend online, how much time are we spending in personal space?
'Whilst I can't live without the internet myself and I use it for work and business and personally it's drawing us away from our three dimensional lives. We're having to correspond so much more online or via text or via tight word than we are in communication with somebody via voice or in contact and I find that a little distressing.'
To help explore her ideas around communication and fate, Alessi is working with a team of dancers in her North Perth studio to develop the work, welcoming the movement and ideas that the collaboration will bring,
'Having chosen a cast of six quite interesting and different movers, dancers, this show is kind of going to be based around them as strangers and how they connect though in their lives – both online and within their circles of links in life.', she said
This collaboration is anticipated to include to the audiences of the show; Alessi and her collective, Studio Complesso, are planning to explore strategies for collecting survey data as to the tech-savviness of the audience and integrating the results into the performance. Extending an invitation to the audience to leave mobile phones on and share any during-performance calls is also being explored. To ensure that her eclectic vision retains clarity and cohesion, Alessi is working closely with dramaturge Jo Potts to hone her message.
Given her own interests in movement – in acrobatic, aerial and parkour kinds of movement;, combined with a infectious curiosity about the workings of communication and the quirks of fate, audiences can expect dance with a difference on many levels.
One not to miss…Claudia Alessi In This.
In This runs Wednesday 18 – Saturday 21 at Studio Underground, State Theatre Centre details www.bocsticketing.com.au
Zoe Carter