Glad You're Back? Yes Prime Minister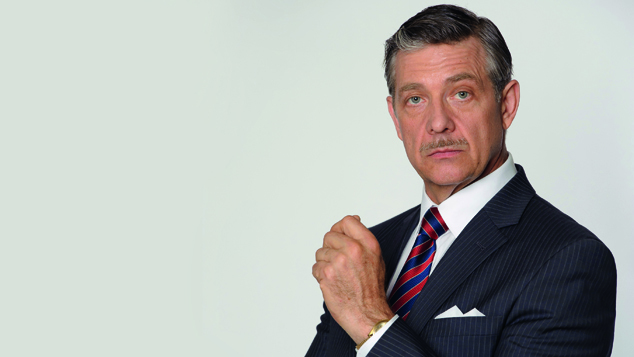 Watching a new James Bond film, and seeing that a great character can transcend a great actor – even Sean Connery – got writer Jonathon Lynn  thinking that the well-loved British satires, Yes Minister and Yes Prime Minister could survive the death of its two biggest stars, Paul Eddington and Sir Nigel Hawthorne. Lynn got back together with writing partner Antony Jay to collaborate once more and now the hit West End stage show they wrote together is touring Australia. OUTinPerth spoke to Philip Quast – who will be playing the deliciously devious arch-civil servant Sir Humphrey Appleby in the Australian production.
While taking on such an iconic role would be daunting to some, Quast is adamant that mimicry of Nigel Hawthorne's rendition of the character is out of the question. For a start, there's his extra height, and then, just to reinforce the point, Quast is also sporting a moustache.  While the cast were familiar with the TV series, what they found most helpful in watching the series was getting a sense of the rhythms of the dazzlingly clever writing.
For Sir Humphrey Appleby in particular, the writers have created speeches with more than a few challenges for the actor needing to deliver them,
'They really are arias, they're set pieces and they're there to show off, to show off his speed and that's often to give himself time to think', Quast explains 'For Mark Owen-Taylor [who plays the PM] and myself the thing that we had to do was to go back to school in terms of our vocal work. The accent is only part of it. A lot of the English wit comes literally from the athleticism and the speed of delivery that your actual tongue and lips can function at. Most of us can think faster than we can speak and what inhibits our delivery of speech often is the physical lack of athleticism within the body…
'We just had to work extremely hard to even get the lines out half as fast as we do. The audience are way ahead of us sometimes so we've got to be able to get the lines out sometimes before they can think what's coming. '
Playing the quintessential British civil servant was not a problem for Quast. Although he's best known for his leading role in the Australian production of Les Miserables having lived for the last twenty years mostly in London, he says he has 'some understanding' of British politics. Mind you, of his recent return to Australia and our politics he says
'You recognise that politics changes very little from country to country so you know there are certain truisms, and this is full of exactly the same predicaments that we have here except probably in Australia there's a lot more vitriol and mudslinging at the moment I can see than in British politics.'
Like British politics however, whilst the role played by the bureaucracy may be out of the public spotlight it is nevertheless a very powerful institution. Quast argues that the power of civil servants may even be on the increase,
'I suppose that civil service and politicians are always at war with each other because, I think, the civil servants believe that they run the country. And in fact when you think about the amount of legislation that's been through recently and when you think of the goings on with politicians now spending so much of their time in press conferences, Q an A shows, they do a lot more…as I heard Paul Keating say,  he didn't have time as Prime Minister to devote to the amount of press work that they do now because he was devoted to having to go to meetings.
'The civil servants are not really  politicians they still have egos in the same way but because they have index linked pensions and they're on qangos and they end up on boards and everything, the senior ones,  they tend not to be driven in the same way that politicians are for sound-bites and popularity. And they definitely believe they run the country. When you realise the shenanigans that are going on, you wonder who is running the country?'
Yes Prime Minister opens on May 31st at His Majesty's Theatre for 8 shows. For more information: www.yesprimeminister.com.au and book tickets from  Bocsticketing.com.au
Zoe Carter