Home Sweet Homo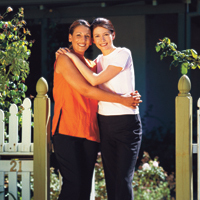 To many, the dream of owning a first home can be just that: a dream. There seems to be so much involved with the entire process that to call it daunting is an understatement.
There are, by no means, easy or certain rules to follow. But that said, here are a few points to bear in mind when contemplating buying your first home.
1. CURE YOUR CREDIT
Make sure that your credit rating is good. A good credit rating is the key to securing a home loan. After all, without either, you have no hope of achieving your dreams. Credit ratings can be easily cured, it just takes foresight. To check your credit history, inquire with firms such as Baycorp Advantage or by visiting www.mycreditfile.com.au.
2. HOW MUCH IS TOO MUCH
After making sure there are no nasty surprises awaiting you in the credit history department, it's time to figure out your goals. What kind of a home, and then of course home loan, can you realistically afford? If you're looking for a hard and fast rule, mortgage repayments should never exceed more than 30 per cent of your before-tax income.
3. BETTER WITH A BUDGET
One thing is certain: budgeting sucks. But it's the only way to achieve your dreams, realistically. That means it's time to draw a budget up. Cut back on the frivolous spending and keep to the essentials. Your aim at this point should be to save up for a sizable deposit but making sure you aren't living on just noodles and rice crackers. This is unless you love noodles and rice crackers. Save like there is a tomorrow.
4. DO YOUR HOMEWORK
It's like any kind of purchase, from a car to a phone – you need to know the market you are buying into and what suits you. Research is your friend. Investigate the sort of property you think would be applicable to yourself and whether the suburbs you are looking at have potential to grow in any capacity. Yes, the potential investment of the purchase should be considered, but isn't the key factor to buying a first home. Talk to friends, family, Facebook acquaintances… the lot! As many perspectives as possible will help you form a solid opinion.
5. GET WHAT YOU DESERVE
The First Home Owners Cap (FHOC) is available in certain situations, which means that there is $7000 the government is willing to tip in to help you out. This may not sound a lot in the big scheme of things, but every dollar helps. Check out www.firsthome.gov.au for more information.
6. KNOW THE COSTS
There are a whole bunch of costs that go with buying a home. When dealing with lenders, be aware of settlement and valuation fees along with mortgage insurance. You're going to be forking out stamp duty on both the mortgage loan and the property purchase, both of which vary. Land transferring and mortgaging both come with their own registration fees. And then there are the conveyancing fees along with the building and pest reports, neither of which you can skimp on.
As mentioned earlier, these are just rough guidelines.
If you are interested in purchasing a first home, it's best to talk to a professional like a financial advisor followed by a real estate agent about your desires.

Scott-Patrick Mitchell
***