Is The Original Always Better?
So many successful English TV shows are recreated in America, from the '70s classic Man About The House transforming into Three's Company to more recent programs like Life on Mars, The Office and The Thick Of It. This month we take a look at some notable hits and misses.
Queer As Folk
 The popular UK mini-series is one of the most successful transitions across the Atlantic. While the UK version has just 9 sharp episodes, the American remake is a massive 5 year long soap opera. The biggest difference is that in the UK version one of the regular characters dies near the beginning.
Shameless
 Shameless has run successfully in the UK for seven seasons, last year a US version was successfully launched. The biggest difference the US version has a high profile cast with William H Macy and Emily Rossum in the lead roles.  
Being Human
 The US version of the story of a ghost, a vampire and a werewolf sharing a house is worth a look, but without the captivating performance of UK werewolf Russell Tovey it does seems to lack something that the UK version has.
Skins
 It's hard to pin down why the us version of skins is so hard to watch, maybe it's because the gay character of maxi was transformed into being a girl for the US version. Maybe it's because there's just a lot of bad acting in the US take.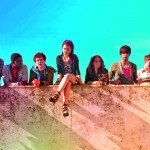 UK *****        ** USA  
 Coupling
The hilarious uk series coupling is laugh out loud funny and ran for 4 years. Creator stephen moffat is behind a bunch of great shows. When friends ended after 10 years nbc thought a US version would be the perfect replacement. But what was funny when set in london, became strangely creepy when relocated to suburban USA.