It's Looking a Lot Like Kitchmas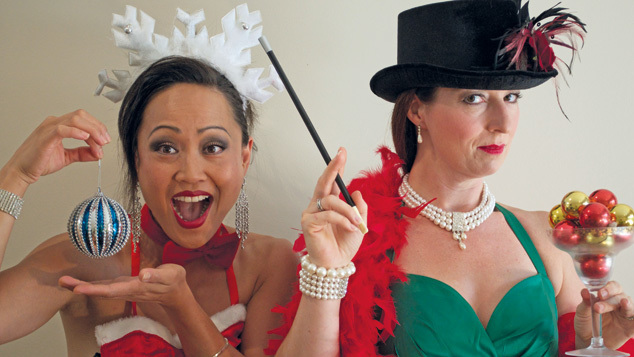 Two of Perth's most fabulous cabaret performers are bringing Christmas to July this month Downstairs at The Maj. Chloe 'Crackers' King and Rhoda 'Ribbons' Lopez promise a night of high jinks, hilarity and musical fun with their new show Kitchmas in July. OUTinPerth spoke to Rhoda Lopez about the show.
What made you decide to do a Christmas show?
Well the history of this is that we were going to do it for The Blue Room in 2010 at the end of the year when they were going to have Random Acts. Then Chloe who's the other actor and writer for this, her father died, so we had to cancel the show. Then last year we decided to pitch it to Downstairs at the Maj as Kitchmas in July and we thought – oh that will be fun. We were offered a time slot, and then at the last minute it was changed and we had to cancel it because Chloe had already booked to go to England again. It's been a long way in the making. So this year its third time lucky.
So what do you like about Christmas?
I love being able to find gifts for people and also just the food really and family time. Just making the time to catch up with family is really important for me, just the joy, I don't really like the stress of people doing all their mad shopping because they have to fill their list. I actually like to make things now, like last year I baked cookies.
Are you organised with your Christmas shopping or are you kind of last minute?
No I'm kind of last minute. It usually ends up being gift vouchers, but if it's is specific requests from people then yeah I do like looking around for things. Usually they are really quirky things because I don't have much money around Christmas time anyway; hence sometimes I end up making things.
Do you have a favourite carol?
Oh gosh, not just one favourite but I do love Silent Night, I do have a special place in my heart for Silent Night, and also Joy to the World just because it's a really happy one, but I suppose that's just a hymn not a carol, what's the difference?
When Maria Carey does it it's a total disco tune.
Yes that's right [laughs] if you get people up and singing, why not?
What will we experience at the show?
Well you will experience some poetry mainly written by Chloe King in the vein of Twas the night before Christmas, like it is sort of based on that poem. There will be little elves and you will see live cartooning by another elf, his name is Nativity Doherty. You'll be a part of a raffle, you'll get a free raffle ticket, and you'll get candy canes on the table. You'll get a real prize which is nice. Also Lizzy has been very gracious in agreeing to change the menu for downstairs and making more of a Christmas themed menu.
Kitchmas in July (a stocking thriller) is Downstairs at The Maj from Wednesday 18 to Saturday 21 July.
Graeme Watson