Lady of Letters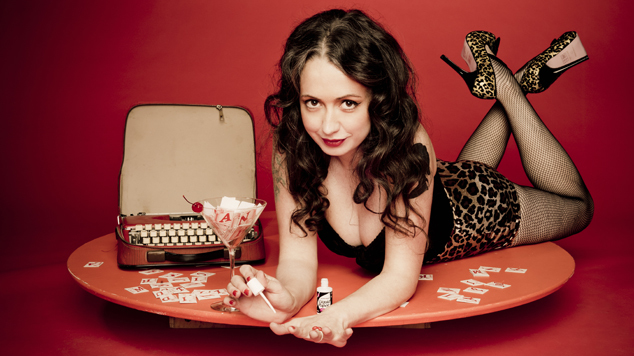 Juggling phone interviews whilst frantically rummaging around her city abode (aka storage dumping ground), and cursing  the fact she has somehow obliviously managed to become a stage five hoarder, all while her squeaky new tenant hangs around (literally) in the backyard to move in is just another day in the life of Marieke Hardy.
Known for her barbarically witty writing, broadcasting, producing and blogging, the woman has done it all! If you're scratching your head thinking 'Who the hell is Marieke?' First of all, shame on you for the self deprivation of such a sarcastically, satirical, no holds barred, creature of literature. Fear not though, Miss Hardy will be trotting over to Perth later next week to present Woman of Letters  for part of the Perth Writers Festival, so you'll have every chance to redeem yourself.
When Marieke speaks about Woman of Letters, it doesn't take a genius to realise this is a project very close to her heart. In a fast paced world saturated with instant text, the web and (some shamefully shocking) abbreviations, we seem to have become caught up in an era that demands and expects everything instantly. 'Letters teach you patience', Marieke says and who can deny that warm, fuzzy feeling of opening the mail box and seeing a handwritten letter tucked away amongst all the Synergy, Telstra and bank statement babble.
The project sees five writers given the same topic one month in advance, this year the writers are working with A Letter to the Person Who Told Me the Truth.  They then have the freedom to write and perform a 5 to 10 minute piece on whatever they wish to present to their unsuspecting audience. Interesting side fact: audience members are provided with pens/paper/stamps and encouraged to pen their own letter in the break revolving around the same, topic.  The extra cherry on top (besides the every flowing, available wine), is that Marieke will even post them for you!
Now, representing OUT in Perth, I couldn't resist a slight segway onto the topic of Margaret Court. In typical Hardy style she had no problem expressing her opinion rather openly beginning with 3 words to describe Court: 'bat shit crazy!' Referring to the opinion piece by Margaret Court printed in the Herald-Sun, Hardy continues "I remember reading it thinking 'what the fuuuuck!?' But then I went 'oh! Wait, she's insane, stop worrying everyone, she's just crazy!'"
Tying up my brief encounter with Miss Hardy, I proceeded to ask her one of the sanity testing 'would you rather' questions, proposing whether she would rather a)have sex with somebody who's crying hysterically or b)eating a block of cheese? Being a vegan who has dated multiple musos "they feel all the emotions" she naturally locked in a) hysterically crying. Upon learning this was in fact the insane answer, Hardy simply answers 'well, maybe I better go and get a drink with Margaret Court then.' 'That would be funny', I reply. 'No, what would be funny is if we got a drink, hit it off, they amended the laws and we got married… I'm very open minded.'
Get in line, Margaret Court, get in line.
Woman of Letters takes place on Saturday, 25th February in the Sunken Garden, UWA. Tickets are available for $27.50 through the Perth Writers Festival website.
Katie Cameron
Image Cybele Malinowski