Lessons in Love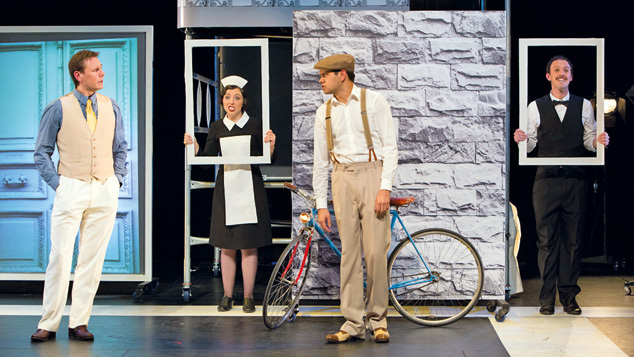 The Bell Shakespeare Company is heading to Perth this month to present not a Shakespeare work but a play from French author Moliere. Making her debut with the company in The School for Wives will be actor Alexandra Aldrich who will be taking on the comic role of Georgette. OUTinPerth's Graeme Watson spoke to Alexandra during a break in rehearsals.
I've got to admit, I know very little about Moliere and his work which I guess is probably not that uncommon?
Yeah I guess not, but that's probably the most exciting part about it I suppose. I mean everyone knows all the Shakespeare's by now so it's kind of cool to have something that's a bit of a surprise. Moliere is a French writer, he wrote a lot of farcical stuff that had a lot to do with government and taking the piss a bit out of politics of his time and the church and that kind of thing. This is one of his earlier plays that kind of had a lot to do with guys like him I suppose. This particular play is about this 'forty something' year old guy who is a bit of a babe and has it all going on for him, the only thing he doesn't have is a trophy wife. He comes up with this plot to chuck a four year old girl in a convent, bring her up really dumb so she'll never cheat on him and he'll have a perfect life, of course that all goes horribly wrong.
It's interesting how those sorts of concepts like a trophy wife are still so relevant 350 years later.
It's bizarre. I read quite a few translations of the play before seeing this new version which we got our hands on in the audition process. Reading all these '70s versions and ones from back before then and and reading all these hilarious rhyming couplets, about people who think they have got it all going on, and can turn people into whatever they like and you think – oh my god this is so true, why have we not learnt!
I guess when we hold those play writes in such high regard; we forget they are supposed to be funny.
Exactly, and yeah the audience can be high brow or whatever but it is for everybody. The stories are universal – who doesn't love laughing at a guy who thinks he can buy his wife and make her really dumb and she'll be perfect? Of course it's brilliant, it's absolutely brilliant and we should be watching these we shouldn't be reading them we should be going out.
Tell me about your character Georgette, what is she like?
In this particular production we've decided to make the two servants a comic duo called Allan and Georgette and we've decided to make them Italians. In past productions they've always been peasants from outer France and we don't have anything that relates to that so she is kind of like Manuel off Faulty Towers. You know the servant that just wants to really do the right thing but because he doesn't understand he gets everything completely wrong. That's kind of it except they come in a pair and are like entirely in love with each other and hate each other at the same time. They have that European passion about them but can't do anything right to save themselves, that's kind of them, which is so much fun to play.
The School for Wives is on for 5 shows only at The State Theatre Centre July 11-14.
Graeme Watson