Musical Madness with Russell Fletcher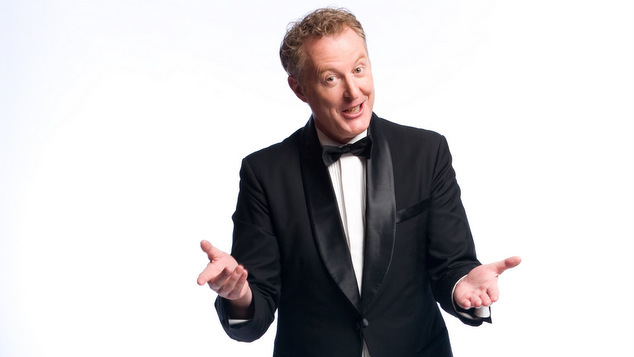 It's remarkable how strikingly similar actor Russell Fletcher looks to Danny Kaye, the actor from Hollywood's golden days that he portrays in the theatrical production The Danny Kaye Show. Speaking to OUTinPerth he tells us how the idea for the show germenated.
'The whole idea to do a show about Danny Kaye from quite a sponteneous moment, we were doing a tour of the play Twelve Angry Men, Shane Bourne was in it, along with Marcus Graham, George Kapinaris, Henry Szeps and so on, I was juror number twelve, I only had half a dozen lines in the whole piece.
'We were back stage, wearing suits and the Director looked at me and said "My God, Russell you should do a Danny Kaye show." All the other guys looked at me and agreed and said, 'Yes you should", like a jury.'
The actor had been searching for a solo show and after a lot of research to learn more about the song and dance man the production had its debut in 2004. Fletcher admits that he's always had a soft spot for the entertainer.
At his 30th High School reunion he caught up with friends, including some that had know him from primary school. They said they weren't surprised to find him impersonating Danny Kaye, as they could recall him doing Danny Kaye imprersonations for his classmates back in the 1960s.
Fletcher admits that many of the people who come and see his show might never have heard of the entertainer who was famous for his tounge twisters and comical songs, but even though they might not know the name they find themsevles recognising his work,
'They might start off saying, "Danny Kaye? Doesn't ring any bells", but once the show starts they find themselves singing along to the songs which are embedded deep in their memory, songs like Hans Christian Anderson, Thumbelina, Wonderful Copenhagen – they're in their memories.'
Danny Kaye is just one of three shows that Fletcher is involved in at The Subiaco Theatre Centre in November. Alongside his one man show he's also part of the cast of improvisational players who create Sponteneous Broadway. The show is made up on the spot from suggestions put forward by the audience and takes a different form every night. The show was a sell out success when it last appeared in Perth.
Fletcher is a big fan of improvisation on the stage saying, 'You just have to walk out on stage with your bare wits and nothing else and produce something out of nothing… for me that propells and excites me. You wonder what the audience will give us that we can build upon.'
The team is also bringing a children's version of the show to town, in Random Musical the audience put their favourite words forward as the basis for songs. The day time show is a great family event and Fletcher highlights that it's a great way to introduce young people to the world of theatre.
Russell Fletcher's The Danny Kaye Show is on at The Subiaco Theatre Centre on November 10, 14, and 17. Sponteneous Broadway runs from November 8 – 10 and 13 – 17, while the childrens show Random Musical is on November 10 and 14 -17.
Graeme Watson