One Hell of a Size Queen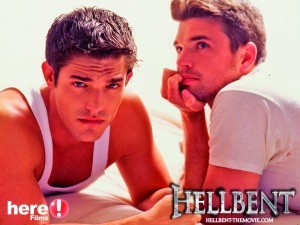 The film features a quartet of gay male friends- Eddie (Dylan Fergus), our hero, a gay cop with a fondness for rough trade (his handcuffs are in use both on and off duty); Hank Harris as Joey, a wannabe leatherdaddy (problem being that he looks about 12, so he's less a leatherdaddy and more of a…well, cowboy!); Andrew Levitas (Psycho Beach Party) as the bisexual Chad (bisexual in a Captain Jack Harkness way, meaning 'gay but not fond of labels') and Matt Phillips as Tobey, a gorgeous, well-hunk jock who dresses up in drag and is miffed to find himself suddenly invisible to male attention (I think it's because his wig and heels clash).
The four gay friends hit a huge gay party at Halloween, unfortunately at the same time a psychotic, head-hunting serial killer dressed as the Devil suddenly decides he's horny for some Nellie Noggins to round out his cranium collection. I mean, just because there's a full moon, doesn't mean the queer quartet has to take it literally- but they moon the serial killer (without realising he's a serial killer at the time) and from then on he's out to get their pretty faces for his trophy cabinet (well, I guess it would actually have to be some kind of jar with ethanol in it).
This is a fun little film – the four guys are awesome- particularly impressive are Fergus as the failed cop (though crucially, the reason why he couldn't become a beat cop saves his life at one climactic moment of icky body horror that recalls David Cronenberg before he got a hard-on for casting Viggo Mortensen in everything); and Levitas, clearly having a ball here whilst doing his usual film-stealing; think of him as a gay…well…gayer… version of Stifler from American Pie. Also shining is Bryan Kirkwood as Jake, who looks to be a love interest for Eddie, if either of them can keep their heads (in all senses of the word).
Gratuitous gore and gratuitous beefcake? Why has this film not won the gay equivalent of an Oscar already?!