Plastik Fantastic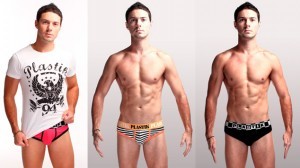 When did we start caring so much about our underwear? Was it when Marky Mark donned his Calvin's or when Tom Cruise started liking the old time rock n roll? Regardless, your brand of underwear is now a fashion statement on its own.  Local designer Tristan Rogue has just released his latest range, OUTinPerth investigates what goes into the creation of some underpants.
How did Plastik Clothing get started?
It started two years ago when I realised there weren't any underwear brands that I liked. I have always drawn fashion sketches since I was young and decided it was time to take it further and bring my dream to life. I took around a year to find the right group of manufacturers and went from there.
Where do you draw inspiration from?
Plastic surgery, perfection, mannequins and bright colours. It doesn't stop there though, I draw inspiration from the weirdest most unexpected places. It could be a movie, something I see on the street or something going on in my life at the time. 
What makes your clothes unique?
When I design a pair of underwear or a t-shirt, I need to be sure that there is nothing else like it in existence or I lose interest completely. I am completely intent on being as individual as possible. From the original concept of the design, right through to the fabric I choose in production it has to reflect my personality and who I am.  I also make sure the photo shoots for Plastik are always a little bit out there and outside of the box which makes Plastik stand out even more. Our latest photo shoot was done by talented photographer Zoey Ashton.
What's exciting in your new range?
My favorite design in Plastik's latest range is the Outlaw Brief. They are black, white and orange. I drew inspiration for this design from an old prison movie. I have always wanted to use orange in an underwear design. It looks great against tanned skin and really stands out.
What kind of materials have you been using?
We use bamboo fibre a lot lately, It is soft, durable and hypoallergenic. I really wanted to go in a different direction to other brands. Other brands have been using banana fibre and the usual cotton/ spandex/ lycra mix. I wanted to steer away from that and create a unique marketing point. With regards to fabric, I am always on the hunt for something new and un-discovered in the underwear market.
What makes a great pair of underpants?
Dedication. I turned away around 30 samples which didn't meet my expectations. I needed it to be perfect. So being a perfectionist as a designer helps. Another thing would be a great design and the right manufacturers.
Find out more at www.plastikclothing.com/