Property Review: Right on the River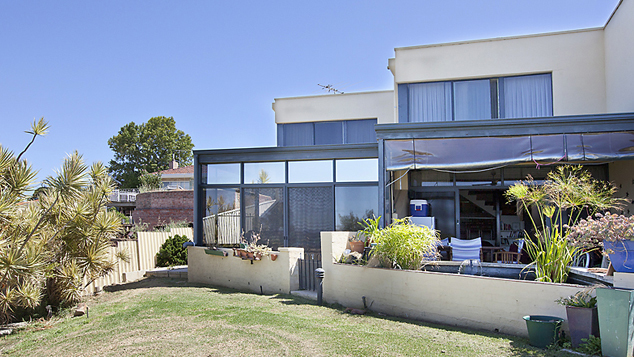 This riverside three bedroom town house in Mount Lawley has an enviable view of the water, a modern open plan design and decent sized rooms. The third bedroom could easily be used as a study or home office and the complex also has great communal facilities incluing a pool, spa, sauna, a BBQ area and great security.
This is one property that would be low maintenance and a great spot for throwing a party but also well set for dinner gatherings or just relaxing times looking out over the river.
Features to Love…
The View
Undoubtedly the view is this property's biggest draw card. The lounge area, master bedroom and alfresco areas have uninterrupted views across the park and river. Hours could be whiled away watching boats and birds on the river, cyclists and joggers promenading and twinkling lights in the evenings.
Clever Split Layout
While this is a small town house, its multi-level design allows it to be both open and spacious but it is has clearly defined living areas. There is a decent sized kitchen which has clear views across the dining area, stair well, lounge area and alfresco space. Each room is a few steps lower than the last creating specific zones but maximising the light and river view.
Access to the River
This town house is one of just seven in the complex that has direct access on to the river. From the lounge room you can walk out onto the alfresco entertaining area, out the gate and into the riverside parkland. There aren't many properties in this price range that have river access.
On the Downside
Challenging Stairs
If you have friends or family members with a disability or mobility challenges this house will be troublesome, with stairs at the entranceway, throughout the lower level and a staircase to the bedrooms on the upper level, it's not a space for wheel chairs or walking sticks. The style of the house is definitely in the '80s – but it's probably just on the tipping point of returning to being cool.
Details
UNIT 21/3 MITCHELL STREET, MOUNT LAWLEY
From $759,000, 3 Bedrooms, 2 bathrooms, 2 cars
Contact
Beaufort St Realty
Pam Herron 0413 610 660 or Jen Jones 0415 662 622 or find out more online.
Written By Graeme Watson
Updated: This article was originally published in April 2012, it was updated in April 2013 to include an updated price and a weblink was added.