Remembering Edgar Metcalfe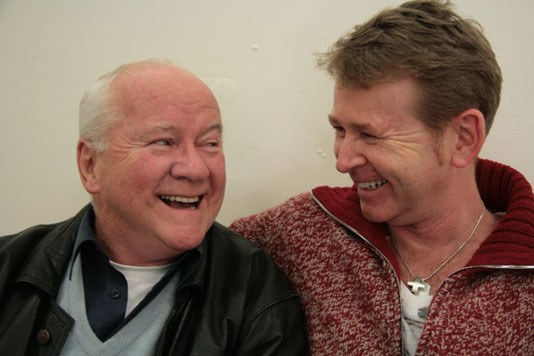 A face like an unmade bed. Bluebird eyes – and a twinkle in them that could have your knickers off in a flash.Or a remark with such a subtle emphasis on one word that it spoke volumes.Or 'the look' across a crowded room that positively screeched libraries… This could only be Edgar Metcalfe: actor extraordinaire, theatrical doyen and 'dame' of all he surveyed. Now gone to the great dressing room in the sky.
I knew Edgar Metcalfe all of my theatrical life. I knew of him before I met him; I knew him long before I knew who I was. There was never a moment in the theatre scene of Perth when I was unaware of his legacy.
He arrived in Perth in the year I was born (albeit in another country) and chiselled and shaped our professional theatre at The Playhouse, which for decades was the heart of the local theatre scene.
I first met him when I played Elyot in Noël Coward's Private Lives becoming at the age of 16 the youngest person ever to do so. This nauseating example of my theatrical precocity did not go unnoticed and resolutely confirmed my Coward 'tragic' status from the beginning. It also confirmed a connection I had with Metcalfe's own theatrical style, honed in the great English Repertory Theatre system. He was now the doyen of the Perth stage – 'Mr' Playhouse and 'Dame' Pantomime.
And it was a relationship that culminated in our theatrical adventure of Two Old Queens – a ghostly romp between Sir Noël Coward and Her Majesty the Queen Mother. Edgar played the Queen Mother… of course. Originally I was going to do both roles in some mad Blue Room experimental workshop idea and though I knew it was one of the great roles, I realised that we would create a better work if the Queen Mother role were played by another actor and only by Edgar Metcalfe. Besides, he was the spitting image of her… at a distance.
Playing opposite Edgar was one of the great delights and lessons of my theatrical life. I had done it once before, again in the Coward role, when he played the Governor of Singapore in Imperial Façade, threatening to throw me in prison. I think he rather enjoyed that. He had these impossibly long speeches (I had same) and I must admit I enjoyed his theatrical panic when he was getting lost in the middle of them. That upstage eye working overtime. No one else noticed. It was fabulous – this great irreverent in-joke.
Similarly in Two Old Queens we battled our way through some torturous stuff, always helping each other out. There were many moments of laughter, wildly inappropriate because of something going wrong or right or astray. It was a great duet in many ways though ultimatelyit was Edgar's tour de force and I totally revelled in that, loving his theatrical wizardry.
On stage it was magic. Off stage it was too. Whether it was Perth, Adelaide, Melbourne or Sydney, we drank many a pot of strong tea and many a glass of wine. It is a matter of official record that Two Old Queens had one of the largest bar tabs in history. But then everyone came to see us – to pay court, especially to Edgar – such was the word.
And there are more words: I have rewritten Two Old Queens, always with Edgar in mind and I have this growing sense of pride as I share with you that I have dedicated the new script to him. It was the role of his career and there were many – but this one he created and I am proud to have been part of that and so very proud of him. I only wish he were here to play it again – to show us how it's done.
And now whenever I remember those periwinkle blue eyes, that fabulous laugh and wicked wit, I know it could only be His Majesty Edgar Metcalfe – camp expert, sublime technician, kind man… friend.
John Michael Swinbank – Singapore October 2012
Our friend Edgar Metcalfe passed away on September 13, 2012 – a few days before his 79th birthday.