Wil Anderson: The Man In Black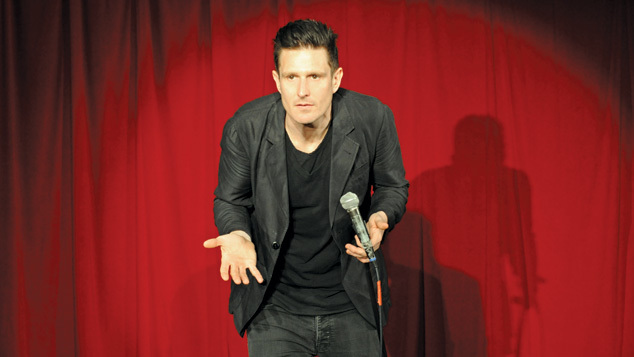 Wil Anderson reckons jet lag is almost better than illegal drugs, but concedes that once you factor in the cost of airline tickets, it's probably a bit more expensive than your traditional Class A's. He's bringing his show Wilarious to Perth this month. His favourite colour is black. OUTinPerth spoke to Wil from his hotel room in Los Angeles.
'I don't think black is a colour, on a technicality, but I always tend to dress in black, my wardrobe does look like Batman's casual wardrobe. Even as I'm speaking to you I'm wearing a pair of black pyjama shorts and a black singlet, I feel like a Ninja who's about to go to bed."
After 18 years of comedy, Anderson says Wilarious is his most cohesive show.
'If you ever thought it might be interesting to be friends with me and hear all the things I have to say, well I've saved you time and condensed all the interesting stuff from a whole year into about 70 minutes. So you can just sit there and hear them and don't have to bother hanging out with me for the other 364 days of the year. That's basically what the show is.
'I had some bad health news this year, not majorly bad, just annoying bad, and I wanted to talk about it because it dealt with ageing and the idea of your body starting to let you down.  I knew to tell the story properly it would take 20-25 minutes but I've never done a piece that goes for 25 minutes, that's a long time to commit to one bit.
'So I started by writing that piece and telling it the way it needed to be told, and every other bit of the show comes from a theme that is established in that story. None of it is material that I've jammed in because I thought it might be funny and it's vaguely on topic, it's literally one complete thought.'
It's a thought that's been both critically and commercially lauded. Wil Anderson has won the Melbourne Comedy Festival's People's Choice Award three years running, but it doesn't mean that much to him.
'I've always been of the opinion that you can say something interesting, and still be popular. I've never had much interest in only preaching to the choir, my attitude has always been that if I want the things that I'm talking about to have some effect on people, I have to say them to people who might not already believe those things.
'No audience laughs because you've won an award, they laugh because your joke is funny. So I don't need that, but if I can read a nice message into it, it's you don't have to sacrifice being a commercially popular act to do interesting work.  If that message gets out because of [the awards] then I hope that would be a positive message or a positive legacy to have.'
And yes, we can safely assume he'll be returning to the small screen this year.
'It's not some big secret, anyone could work this out if they thought about it.  I spend six months of my year overseas and six months in Australia.  Three months of that is my festival touring season and three months is my other touring season, which always remarkably coincides with when Gruen's on. I'm technically not meant to tell people when Gruen's back yet, but I'm coming back to Australia… for some reason… and coincidently I'm doing all these tour dates… oh look, I can't tell you!"
Wilarious is on at the Octagon Theatre from July 12 to 15. Tickets through Bocs.
Bren McGurk