The Shondes: A Unique Sound from Brooklyn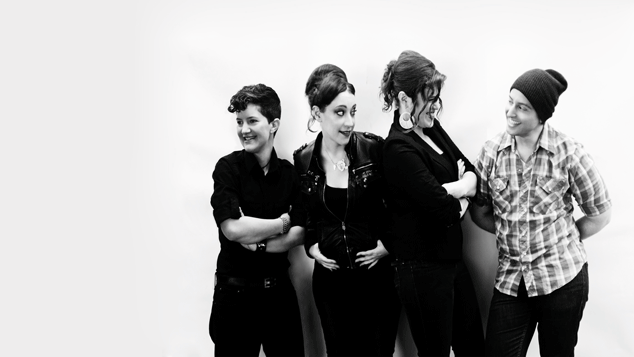 The Shondes (pronounced Shon-duhs), a four piece indie rock group from Brooklyn is a band that is well worth checking out. Formed in 2006, the Shondes have toured the US extensively and are about to embark on their first Europe tour. Their unique sound combines riot grrrl power with Klezmer modalities and time signatures and rich vocals. Claire Alexander spoke to the band's drummer Temim Frutcher.
Can you say a bit about the band's name and how it came about?
Sure!  The word shonde is Yiddish for 'disgrace' or 'outrage.'  When we were talking about band names back in the day, we thought it would be pretty special to have a Yiddish name, because it's a language that's close to our hearts (and the hearts of our ancestors).  And when we were trying to figure out what the Yiddish name would be, shonde— a word that describes so many life experiences that are about being shunned or scorned for being who you are or for trying to make a more just world—just kind of spoke to us (it's still an insult to be called a shonde in many contexts!) but we use it lovingly and with a sense of humor and reclamation.
How did your music come to have Jewish influences? What music were you influenced by?
Honestly, it just sort of came naturally.  The band started back in 2006 by people who were very close friends and who connected most naturally over babka and matzoh ball soup, so Jewish musical influences—both cultural and religious—were naturally brought to the table…We grew up with all kinds of different Jewish music—religious melodies, Fiddler on the Roof, Klezmer, smatterings of old Jewish folks songs—and when we were mulling over how to make the kind of music that would feel most moving and most exciting to us, those ingredients definitely played a part.
Can you say a bit about how the band identifies, socially and politically?
We do try to do as much as we can—both via playing benefits for rad organizations and via making some tabling or organizing space at our shows—to support social justice work where it's appropriate.  We've gotten to meet some really awesome and committed activists all over the US and it's always very exciting when they can use our shows as a space to announce the action happening the following day.
What have you been listening to recently?
Lots of sixties stuff, soul and pop and girlgroup.  90s nostalgia I'm slightly too ashamed to get into in much detail.  Bruce Springsteen, R.E.M., Fleetwood Mac, The Cure (always).  Recently, I love Thao and Mirah's stuff, and I love the Wild Flag album.  The new Rufus Wainwright…I'm  excited for the new Amanda Palmer project.  I'm a geek so I also study drummers I love: Elvin Jones, Gene Krupa and the incomparable Ringo.
 Is there anywhere in Brooklyn that you love, that OUTinPerth readers should for sure visit?
Well, we have a song on our last album, Searchlights, called Coney Island Tonight, which is a tribute to Coney Island here in Brooklyn.  It's a beautiful beach in a different way from some of the pristine beaches we've seen on the west coast… it attracts so many different kinds of people, and families, and you don't have to worry about wearing the perfect swimming costume, you can just sort of go as you are
What's next for the Shondes?
Well, our first Europe tour is next, for which we're very excited!  This summer, we'll be buckling down on some new material for our next album, which we're really looking forward to, too.  And more touring after that.  And as soon as we can: Perth!
For forthcoming tour dates check www.facebook.com/theshondes/events).