Van She Return With New Summer Sound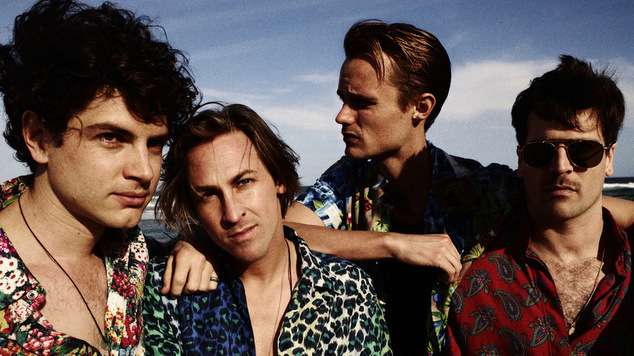 Australian band Van She return this month with their second album The Idea of Happiness, the follow up to their 2008 debut V.  The title track has already been popular and the second single Jamaica is a sure fire summer hit. OUTinPerth spoke to band member Tomek Archer who explained why the band had taken their time creating their second collection and what to expect from their live show when they play at Capitol on Thursday.
What's it been like creating your second album?
It's been a long time, we took our sweet time with this one. We took our sweet time last time, but that was the first time, this is the second time we have a bit more of an idea what we're doing and we did it all ourselves. We filled the studio with gear and just took our time
Isn't there normally a bit of pressure with the second album to get it out quickly?
Yeah, I don't know if we felt the pressure, or a rush or anything like that. I think certainly I didn't feel under any pressure from anyone else… We didn't feel any pressure because we didn't really feel like the first record was everything that we wanted it to be, so we felt like there were things that we still wanted to get across.
What kind of things were you trying to achieve from this album?
We wanted to sound like everything the four of us all loved and the things we liked in music. Everyone has got similar taste in things but everyone brings something different to the table. With the last record we went and recorded it in London with producer Jim Abbiss who has worked with some great rock bands, but we're not really a rock band so it was like trying to fit us into a mould that didn't really feel like us. I guess with this one, part of what we were doing was finding our way of working, and finding what would happen if we did this ourselves. Through that process this is what came up.
There's a plethora of adjectives being thrown around to describe the first two singles that have come out. I was wondering how you describe your sound?
I suppose it's just like an uplifting trance but with a tropical vibe at a dance school.
Many people are calling this 'the soundtrack to your summer', is this what you consider when an album is coming out? Is it a seasonal thing?
You know our last record we recorded in London and we lived in London for a couple of months, it was raining and freezing, and this one we did in Sydney and it was done over the previous summer. I don't want to say this record was a reaction to the last one but I think it grew out of the last one in wanting to make some more upbeat music
I saw you guys went to Jakarta recently, what's it like playing in Indonesia?
Indonesia was interesting; we hadn't been there before so we were really surprised when our band surfaced up. We've done a few shows in Asia, Kuala Lumpar, Singapore, Jakarta now, Taiwan. We've never done a proper tour through Asia every time it's just like fly out for a couple of days, play maybe one or two shows then come back. This is another one of those. It was just a weird trip where I get a lot of downtime, hang out in our hotel and do some weird press conferences and stuff. It was a bit like Lost in Translation or something because we had no idea what was going on
Alongside your role in Van She, you're also a very successful furniture and product designer. How do you balance those two very creative but very different types of careers?
I think there are a lot of similarities between the two. Design has always been quite focused on technology and how you can apply that to producing things. I don't make anything myself. I do produce all my own products and things like that so I'm pretty involved in the nuts and bolts of putting it together and that's very similar to Van She.
There's a lot of technology that goes into it making the sounds, it's not like we have drums and guitars and then try and get creative about all the sounds we get out of those. It's pretty nerdy basically; sometimes the studio is more of a lab experiment than what you would think of a band.
I always think a musician and an artist and someone in another field can have so much more in common philosophically in the way they work than two musicians standing next to each other. It's not so much about the medium it's about how you approach your creative process and how you go about it.
You guys are coming to town soon, July 5th you're playing at Capitol. How is it taking it from the studio and bringing it to the live stage?
It's been pretty fun.  We're still fuddling about. We did a few shows back in April so that was our first go at it, and now we're putting together a new show. I think last time we played four or five new tracks and now we're going to try and play more of the records.
It's not like we hit record and play the whole band at once, so through the process of recording we haven't necessarily been set up as a band. Whoever's there plays whatever instrument and everyone sort of plays bits of everything then when we come to live it's like whose instrument can make a sound.
Van She play at Capitol on Thursday July 5, their new album The Idea of Happiness is released on Friday July 6.  
Graeme Watson