Wicked: Some where over the… moon's face?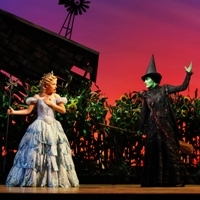 Wicked is a global phenomenon. It's a heady mix of scale, majesty, audacity and hype. Since blowing Broadway apart back in 2003, it has hurtled head first across the globe, consuming city after city with its big green shiny appeal. And now finally – and even though they never said it'd come here – Wicked has landed in Perth.
To be honest, you'll either love or hate Wicked. After all, there are two types of musical lovers: those who prefer a musical as ironic statement on the state of the musical, or those who genuinely love the thrill and surge of a good symphonic moment on stage. Those in the former category can be likened to Scrooge, emotional tundras or Andy Warhol. Those in the latter are everyone. Wicked is for these people and, oh my, it delivers.
If you aren't aware of the story, not even in part, you really ought to pay more attention. It's virtually universal knowledge now that Wicked is the prelude to The Wizard of Oz, the back story as it were, as to how The Wicked Witch of The West became so darn wicked. But it isn't just her story: Wicked sets the scene for the entire Oz mythology. Everything and everyone from The Ruby Slippers (with matching striped stockings) to how The Tin Man lost his heart gets a shoe-in (if you pardon the pun), the sequential setting up of every symbol deftly done.
But Wicked ain't just about the story – it's about the stars. Jemma Rix plays The Wicked Witch, Elphaba, with incredible aplomb. Rix's portrayal of Elphaba sees the character become stoic, scared and uncertainly certain, all conveyed the rigour and conviction of an actor twice Rix's age. Her glistening counterpart, WAAPA graduate Lucy Durack as Glinda The Good Witch, is equally flawless… although her character seems easier to play. Well, once Durack has mastered that incredible twang that is.


Its unfortunate there was no Bert Newton on the night of this review, struck down as he was with pneumonia. Old Moon Face will be magnetic on stage as The Wizard. For this reason alone I recommend seeing Wicked – Bert Newton is brilliance personified. That said, Rodney Dobson's stand in performance as The Wizard was commendable. He gave it a great shot, but was easily over shadowed by Maggie Kirkpatrick's Madame Morrible. Now, pitch Newton beside Kirkpatrick, and the two would literally crackle on stage, the chemistry between them palatable. Two grand old dames of Australian drama, conniving and plotting and turncoating… oh my.
Unfortunately, musicals straddle a fine line: they can either be blisteringly brilliant, or terribly twee. It isn't their fault, honestly. It's ours. We've manufactured around ourselves an era of three minute pop songs, the sentiment, breakdown and consequent lift of narrative neatly packaged and spoon fed in a style befitting the season. Any notion of an extended story through lyric and… what did you say, sorry? It's something our attention spans can't process succinctly. That's why a special audience seek out musicals these days, and Wicked certainly is special. But as mentioned previously, this isn't a cerebral affair, more a matter for the heart.
Wicked's weakest point is that the most quotable lines in the show are actually quotes themselves from The Wizard of Oz. This self-referentiality is the downfall of any postmodern work in the midst of a new theoretical paradigm – in adhering to the old rules of construction and appropriation, the work can at times clutch or grasp at straws or worse, credibility. But then, in other instances, this technique works to marvellous effect – the costumes are incredible and eclectic, the staging phenomenal and diverse and the overall self-contained energy electric. The closing number of Act I, Defying Gravity, is a work of pure genius – the song is a standout and it's visual execution, with Elphaba rising above the stage in an ephemeral prismatic sluice of light beams, awe-inspiring. This itself is worth witnessing, regardless of which musical theatre aficionado you claim to be.
You will either love or hate Wicked. It's that sort of show. But the prospect of seeing Old Moon Face on stage, charming the green off Elphaba's skin… now that's worth the ticket price alone. Bert… we hope you get better soon!
For more information on Wicked visit the official website here. To book tickets click here.
Scott-Patrick Mitchell