ART BALL: Briefs star Thom Worrell swings into the Art Gallery of WA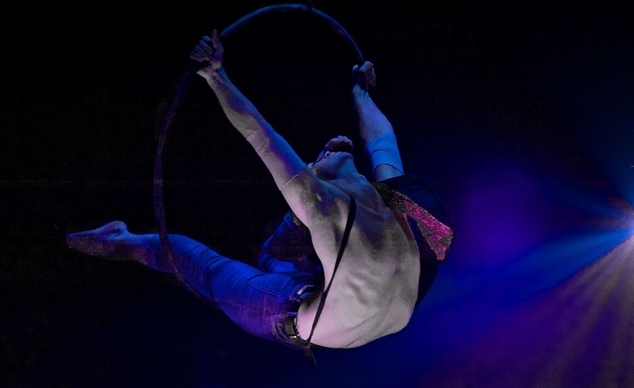 After last year's sell-out debut, ART BALL returns to the Art Gallery of Western Australia for a glamorous evening of music, art and the avant-garde.
This year, the ART BALL will centre around AGWA's current exhibition; The Rise of Sneaker Culture, as guests celebrate the place where art, fashion and music collide.
Australian music giants Client Liaison, Montaigne, NGAIIRE and Perth's own Mathas will be taking to the stage, alongside performances from WA Symphony Orchestra Chorus, WA Opera, and aerialist Thom Worrell – a member of one of Fringe World's favourite perennials; Briefs.
Worrell took time for a chat with OUTinPerth to tell us what he'll be bringing to the ball.
What do you do to keep yourself in form as an aerial performer?
KFC and red wine… only joking, white wine! I really focus on training and maintaining my skills as well as some complimentary training in other fields like yoga and (very minimal) gym and cardio. Diet plays a factor too but I generally slip up on that one. On the road it's all about show prep and giving it everything on stage.
What drew you to aerial performance over other physical performance styles?
I did some dance and gymnastics growing up, but absolutely fell in love with aerials long before ever giving them ago. I used to have dreams of flying as a kid so i sometimes think that also played a role.
You've been on our cover in the past with the rest of the Briefs gang! What do you miss most about touring with the show now that it's on hiatus?
Yes, Briefs: The Second Coming is on hiatus, but I was lucky enough to stay on with the company and we've just finished the initial development of the third incarnation of Briefs titled Close Encounters.
There have been some cast changes since the last show so I'll really miss spending time with those that have gone on to other projects but I now get to enjoy some amazing new guys and hopefully the new show will be gracing the west coast soon.
You'll be performing in an art gallery here in WA – have you performed in any other unexpected locations in the past?
I've actually performed in a gallery once before as well as a museum where I was dressed as a bee performing circus for kids. I've also done a couple shows hanging off the underside of an overpass in Darling Harbour, Sydney.
ART BALL has a dress code that states black tie or avant-garde – will you be performing in a tux or an insane creation?
I wish I could pull off aerials in a tux, but i definitely need a certain degree of movement when I perform. I'll actually be doing a my solo number from Briefs: The Second Coming so i'll be in my show costume, but I must add that the designer for the show is Australia's queen of avant-garde drag, Dallas Dellaforce, so there's a correlation there!
ART BALL will be at the Art Gallery of Western Australia on Saturday May 20th from 7pm. Tickets and more information available from artball.com.au
Leigh Andrew Hill