Lip synch extraordinaire Dickie Beau is coming to Perth Festival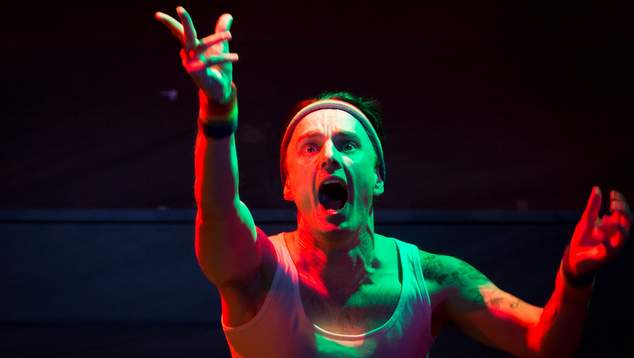 Lip synch extraordinaire Dickie Beau has forged a fabulous career practicing the art of imitating and re-imagining cultural works great and small.
Most recently, Beau hit the big screen in the smash-hit Freddy Mercury biopic Bohemian Rhapsody where he played Kenny Everett, and is soon to appear alongside Kiera Knightly in Colette as the mime who is widely considered to be the originator of the lip synch, Georges Wague.
Away from the silver screen, Beau has captivated audiences around the world with his unique talent for lip synch and is heading to Perth Festival with his singular tribute to Shakespeare's Hamlet entitled Re-Member Me.
The work is a pastiche of lines from the great on-stage Hamlet's, as well as interviews with actors who have embodies the role, and memories of those no longer with us – which has culminated into a captivating queer tribute to those who've played The Dane.
Beau tells us where he found his love for the lip synch and how the ghosts of Hamlet past came to possess his creative mind.
"Well I stumbled upon it by accident! I became friends with a drag queen from San Francisco who was in London called Suppositori Spelling. It would have been about 12 or 13 years ago now and before I'd met them I didn't really think of lip-syncing as a thing."
"I didn't do anything with that mode of performance until a bit later when I wanted to make something out of tapes of Judy Garland making notes for a memoir that was never written. I thought it would be beautiful to do something with these tapes and not read her book – and so it followed that I had the idea to lip-sync the material. When I discovered I had a bit of a skill for it I carried on!"
Beau says of course drag and lip synch and intrinsically linked, though Re-Member Me does not conform to typical understandings of the art.
"I've done all sorts of drag! Drag in popular culture is often thought to be a man dressing up as a woman but I don't see that, I think it can be all sorts of ways of becoming something new or something other or even more you."
The notion to re-stage Hamlet in his own style, Beau admits, was not his original idea but one that was borne of an Australian cabaret performer named Dusty Limits who shared his dressing room in London.
"I did a really long bit to the voice of Kenneth Williams and he said I should do Hamlet – all the great recordings of Hamlet and channel them into a mash-up – so that's what got the ball rolling."
"Then when I was looking through tapes of Hamlet for what I might use, my thinking changed. That's when I started to make recordings of people's memories of their experience of the play. I met up with Ian McKellen and talked about his Hamlet, but also specific Hamlet's of which no recording exists. The only way to bring them back together was through the memories of others, and so that really became the backbone of this show."
Beau says he recalls first reading the play in his school days, but he barely remembers his first encounter with the work.
"I do remember being told that I'd make a good Osric (laughs) – he's a tiny character! I'll never understand why my drama teacher told me I'd make a good Osric, but he did."
"The first Hamlet I ever saw was Stephen Dillane in Peter Hall's production, which would have been mid-nineties when I was about 15 or 16. That was a bit of a thrill because he did it with all of his clothes off!"
"I remember very vividly most of all in the program of that production there was Peter Hall saying something of great comfort which was something along the lines of; 'In Shakespeare's time unlike today there was no such thing as heterosexuality or homosexuality – it was just sexuality.' I remember that program having a great impact on me."
Dickie Beau's Re-Member Me will be at the State Theatre Centre Studio Underground from February 27th until March 3rd. Tickets and more information available from perthfestival.com.au
Leigh Andrew Hill 
---