Anna and Jordan Bruno get ready for My Kitchen Rules Finals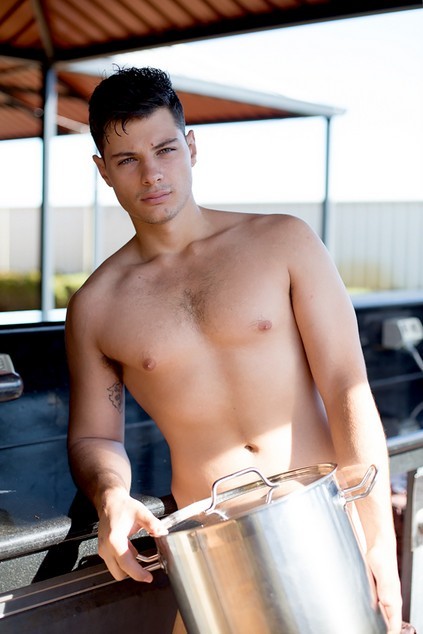 TV cooking contestant Jordan Bruno is a huge lover of great fresh food.
The 22 year old tempts us, telling OUTinPerth that dinner at his house would involve a pasta dish.
"I like to combine the classics with something modern. So maybe the pasta would be made with some rice flour or spelt to make it a little bit healthier. So a pasta with some braised meats.
"I'm not much of a desert man, I can't do much, maybe some cannoles with some ice cream." Jordan said.
Over the last few months Jordan has been behind some mouthwatering dishes on the TV show 'My Kitchen Rules' that have left audiences salivating at their screens.
Appearing on the hit TV show has been a huge life changing journey for Jordan. Appearing alongside his Mum Anna, the Wanneroo local has been a firm fan favourite.
"I get recognised in the street now, so that's been the most obvious change, but it's really made me realise my passion for food." Jordan said.
Jordan also hopes his new public profile will give him an opportunity to campaign for the social equality issues he's passionate about.
"If I have some social influence and can make more of a stance for marriage equality and things like that, and be heard, that's good." Jordan said, sharing that marriage equality is an issue at the top of his list.
Jordan said marriage equality is an issue that affects his whole family.
"My Mum wants to attend my wedding as much as I want to have one." Jordan said. "It's not something that is just about individuals this affects whole families. If everyone could get married, that says we're all on a level playing field. It's a bit of a joke that it hasn't happened yet."
Appearing on the popular cooking program has brought Jordan legions of admirers, he said they fall into three categories.
"I get three groups who love me, there's the young girls who think I'm wonderful, the poor things think I'm straight.
"Then I've got every single mum who meets me – who just hugs and kisses me – and then say I wish you were my son. Which is really sweet as well.
"The gay audience has been really supportive too, the LGBT network has been right behind me and I've had so many messages of support, including people who have told me I gave them the confidence to come out, which has been extremely flattering." Jordan said humbly.
Jordan: We all argue with our mums
The contestant's image as a perfect son took some knocks in the last round of the competition when the cameras showed him arguing with his mum Anna. Judge Manu Feildel scolded Jordan for his attitude.
"They've made it seem like we never fight." Jordan said, explaining that show has a lot of editing. "Mum and I have had arguments the whole way through. They just never shown them, or put them in the advertisements.
"Then in comes to a moment where we don't agree on something and we have a dispute, which I think is like any normal family members, and they've made a big deal of it.
"Suddenly there's dramatic music, and Manu saying 'I won't talk to my Mum like that'. But he doesn't comment on the relationship of any other team members who have had a fight. It's kind of like they [the program makers] built up to that moment.
"Mum and I always argue, that's completely normal in a family dynamic. I'd rather be known as someone who loves their mum and and has arguments, rather than someone who never argues at all – that would be a pretty unrealistic picture."
On reflection Jordan said he was glad they've actually shown that he has disagreements with his Mum.
"I'd hate everyone to think I'm perfect and that's what's normal. Relationships have arguments and require effort, but at the end of the day you still love each other, that's what families are all about."
Jordan said he really got interested in food when he was around fourteen, but his interest in fresh food started earlier.
"I wanted to be a broccoli farmer when I was seven." Jordan laughs.
Cooking alongside his mum is what Jordan describes as their bonding time. "I'm one of four boys, Mum never had a daughter, I'm the closest she's going to get."
Jordan hopes he can build a career in the food realm. He completed a business and finance degree but found it wasn't the kind of work he wanted to be doing.
Launching cooking tutorials through his social media channels is something Jordan has considered as a future career pathway.
Noting that there's a lot of cooking channels now on television, and internationally there are gay TV channels Jordan suggests that he might develop something target the dual markets.
"I'd potentially like to have a gay cooking channel where I cook shirtless or something, anythings possible."
Realistic Body Images
Jordan said he had a lot of fun on some recent photo shoots and thinks that promoting good body images is important.
'I know I don't have the best body in the world, but I love the idea of making food sexier. We're trying to have a little fun with it.
The aspiring cook said the images we have of body types that we get from magazines are often a little unrealistic. Revealing that he's known a few models Jordan said he's seen what people have to do to achieve the right look.
"They legit, have to starve themselves for four or five days, so it does get unrealistic. I think my body just represents being healthy and normal. I eat pasta and I eat ice cream, but I also eat all my veggies. It's OK to be a little bit curvy.
"You can eat and still be sexy, you don't have to cut out everything. You should just embrace who you are. Eating a normal diet with the odd carbs, with some meat and veggies, a little fat, the odd ice cream, it isn't the end of the world." Jordan said. "We've just got to be realistic about body expectations."
Follow Jordan via his Instagram account and check out the work of his photographer Melissa Louise. Jordan and Anna head into the finals on 'My Kitchen Rules' tonight on Channel Seven at 7:30pm.
Graeme Watson, photos Melissa Louise