Rainbow Rights WA call on state government to erase past LGBTI+ convictions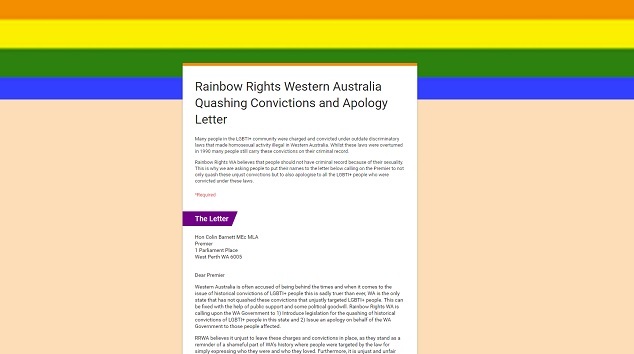 Newly formed LGBTI+ rights organisation Rainbow Rights WA have penned an open letter to Premier Colin Barnett urging the government to quash historical criminal convictions and apologise to the LGBTI+ people affected by discriminatory laws.
In 1990, Western Australia removed laws that criminalised homosexuality but the convictions already delivered remain today on the records of many of these people. Rainbow Rights WA say that people should not have a criminal record because of their sexuality.
"Western Australia is often accused of being behind the times and when it comes to the issue of historical convictions of LGBTI+ people this is sadly truer than ever," the letter reads.
"WA is the only state that has not quashed these convictions that unjustly targeted LGBTI+ people. This can be fixed with the help of public support and some political goodwill."
The letter also advises the Premier to issue an apology on behalf of the state government to those who have been affected in some way by the now obsolete laws, congratulating Victorian Premier Daniel Andrews for delivering an apology to his state in May this year.
"RRWA believes an apology to those people affected is equally important to demonstrate the commitment to the change of an historical culture of homophobia."
Rainbow Rights are calling for those who support the quashing of historical convictions and an apology to LGBTI+ people to sign the open letter on their Facebook page.
OIP Staff