Retro Cassette Friday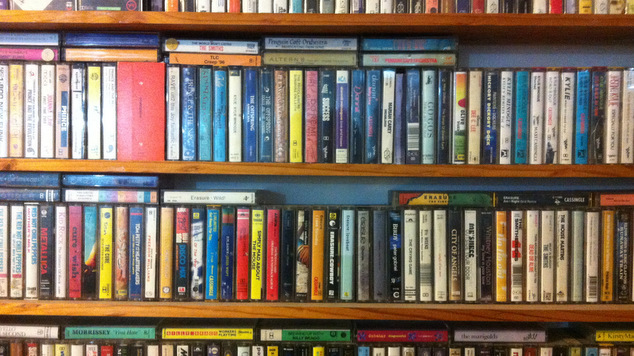 Each Friday morning in the OUTinPerth office we throw on a couple of cassettes and take a trip into the musical past. Last week we had to teach one of the younger members of our team how to eject and turn the tape over to side two, that made the Editor feel really old…
Here's some more random albums from the past.
The Tourists – Luminous Basement
Logo Records – 1980
The Tourists released three albums between 1979 and 1980 and scored one big hit with a cover of Dusty Springfield's 'I Only Want Be With You', which was on their second album. Here on their third and final collection they make a fatal mistake. Despite the fabulous Annie Lennox being the voice of their one and only hit, they sent her back to being the backing singer for most of the album.
Its thirteen tracks of rock tinged with heavy keyboards. Highlights include the single 'Don't Say I Told You So' and 'So You Want To Go Away Now' which is filled with jangly guitars.
Although both Ms Lennox and her Eurythmics partner Dave Stewart are in this band, they both only contribute one song each as writers, the majority on tunes being penned by band leader Peet Coombes. 'One Step Closer to The Edge' written and sung by Annie Lennox should be in any serious fans collection.
Haysi Fantayzee – Battle Hymns for Children Singing
Regard Records – 1982
You might have heard their hit 'Shiny Shiny' but there is so much more to this forgotten act from the early '80s. Filled with Caribbean and African influences a hipster DJ could drop this into set next to Animal Collective or Suckers and it would fit perfectly. Comprising Jermey Healy and Kate Garner this twosome dress identically and at one stage accused Boy George of stealing their look. Aside from 'Shiny Shiny', there's the catchy 'Jimmy Jive Jive', the spooky 'Sabres of Paradise' while the single 'John Wayne is Big Leggy' has lyrics about anal sex. Garner went on to be a successful photographer while Healy became of successful DJ and hit maker with the band E-Zee Posse.
The Jacksons – Victory
Epic – 1984
At the height of his 'Thriller' fame Michael Jackson headed back into the studio with his brothers and recorded the only album to feature all six Jackson brothers. There are some gem's on this album for sure including 'Body' and 'State of Shock' and the very catchy 'Wait'. 'State of Shock' was originally meant to be a duet with Freddie Mercury but time conflicts didn't allow the collaboration to occur. Mercury also wrote a number of tracks for the album, including the intended title track 'Victory', but they were not included.
Graeme Watson