Save Safe Schools: Protesters urge federal govt to fight bullying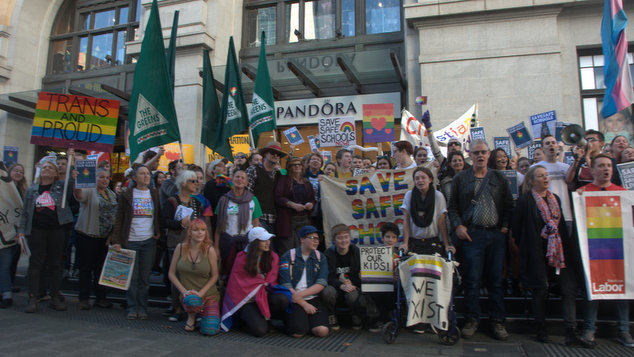 Last Saturday, Perth's Murray Street Mall was filled with supporters of the Safe Schools anti-bullying program – calling for its continuation across the nation.
Though WA's new Labor government have vowed to retain and fund the program once federal funding ends, the Save Safe Schools WA and supporters are urging the federal government and other states to ensure the program remains in Australian schools for the sake of all students.
Among the speakers were state Education Minister Sue Ellery, Federal Labor Senator Louise Pratt, WA Green Lynn MacLaren, teacher and Socialist Alliance representative Petrina Harley, and student organiser Oscar Kaspi-Crutchett.
Youth activist Oscar Kaspi-Crutchett opened the proceedings, delivering a passionate personal account of his battle to keep the program alive against conservative forces.
"They decided it went against their agenda and that it contradicted their world view. They slandered it, they spread lies, they spread panic, and in the end they took it away from us. They left LGBTI students in Australia's schools with nothing," Kaspi-Crutchett said.
"This cashed up circle of conservative lobbyists and politicians expected to get away with this cruelty. They went after us, the kids, thinking we would simply let it happen. That we would let this vital life-saving initiative be taken away from us. That we were too young to care and too young to be political… but they were wrong."
Kaspi-Crutchett handed over to WA's new Education Minister Sue Ellery, thanking WA Labor for pledging to support and fund the anti-bullying initiative.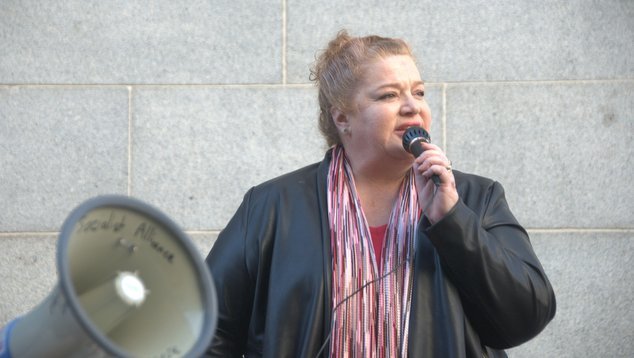 "We took to the election a promise that if the federal government withdrew funding for the Safe Schools program, we would make up to $350,000 a year … available to allow our public secondary schools to choose to use the Safe Schools program, to use part of the Safe Schools program, to use the whole of the Safe Schools program if it was appropriate for their school," Ms Ellery said.
The Education Minister recounted an instance of LGBTI students approaching her directly to explain the impact the program had had on their own lives.
"They told me then that the Safe Schools program saved their lives, and could save other lives… and if that's what this program does I can't see why anyone with a sensible frame of mind could feel threatened by that."
Next to speak was mother, teacher and Socialist Alliance member Petrina Harley, who thanked the youth who had taken the reins of the Save Safe Schools program during the election period.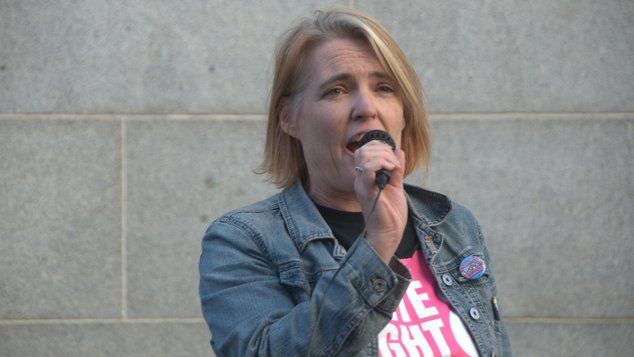 "The students have run with it which just goes to show where the need for this program is coming from. We've heard all these lies about some gay Marxist agenda, whatever that may be, driving this program in our schools. It's not. This is a program that was called for by principals, by teachers and by the students themselves."
"We're lucky here in WA that the state government has listened to the people and has committed to the funding of the program… but there is still much more work to be done to combat the homophobia in our society that is literally killing our queer family members."
WA Green Lynn MacLaren also came to show her support for the campaign to keep Safe Schools federally funded, and ensured that the WA Greens would continue to back Safe Schools as she steps away from state parliament.
"There are two things today that we need to achieve; one of them is the freedom to marry those people we love, and the other thing of course is to make our schools safe and that's what today is about."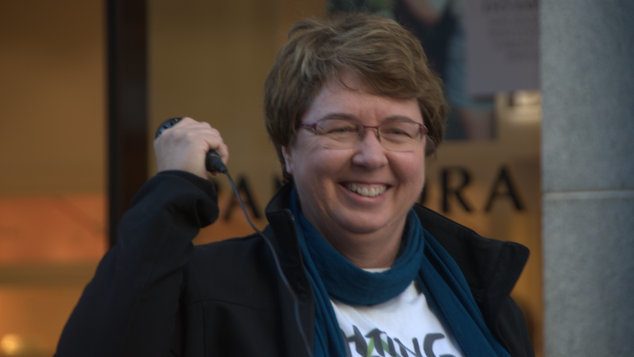 MacLaren noted this was the biggest crowd she had seen marching for Safe Schools in WA, and nodded to new Greens parliamentarian Tim Clifford and the returning Alison Xamon who had come to show their support.
MacLaren also outlined where The Greens differed from Labor in their approach to implementing the anti-bullying program.
"I don't think it should be optional to have Safe Schools, I think every school should have to be safe."
"The way we're going to do that is not only to get the state Minister for Education on side… but also the federal government. Right now the federal government funds the Safe Schools program, that's the funding that's at risk and that's the funding that our senators are fighting hard to secure alongside Labor."
Federal Senator for WA Louise Pratt wrapped up the proceedings, sharing some statistics that highlighted the need for the program's creation.
"It should be the right of every student to a safe education, to a secure and supportive school environment but unfortunately in our nation that is not the case; 80% of young LGBTI people report verbal abuse and bullying in their schools… Only 1 in 5 LGBTI students in our nation reporting that they feel safe in our schools and that is why we need this program."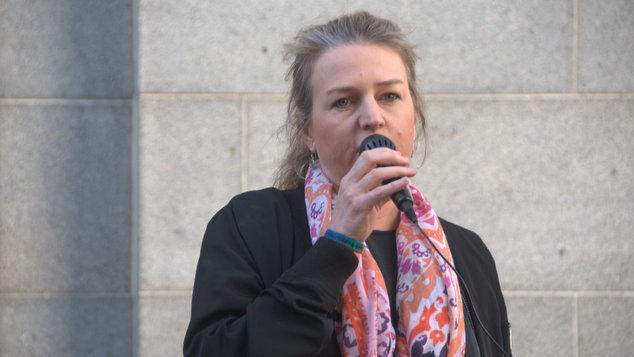 Senator Pratt also noted that evidence has shown LGBTI people are 6 times more likely to die by suicide.
"Despite Malcolm Turnbull's initial support for this program he has caved in to the far right of his own party, just as he's done on marriage equality, and has de-funded the program when the funding expires. The so-called radical elements of this program that have been trashed by the Liberal party are exactly what keeps young people in our schools safe.
"So far Safe Schools has reached 400,000 young people around our nation, and i'm so pleased and proud that Sue Ellery wants to keep Safe Schools in WA so that it can reach more young people around Western Australia who really need it."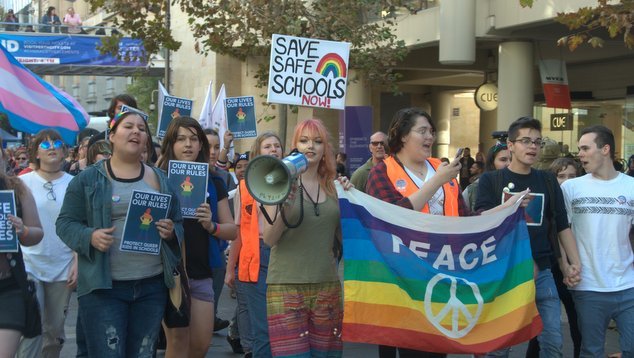 Leigh Andrew Hill
---
Do you need some support?
If you are struggling with anxiety or depression, support and counselling are available from:
Lifeline: 13 11 14
Beyondblue: and www.beyondblue.org.au
QLife: and www.qlife.org.au
QLife are a counselling and referral service for Lesbian, Gay, Bisexual, Transgender and Intersex (LGBTI) people.
Kids Helpline is available for younger readers. Call 1800 55 1800, it's free.
---
Support OUTinPerth
Thanks for reading OUTinPerth. We can only create LGBTIQA+ focused media with your help.
If you can help support our work, please consider assisting us through a one-off contribution to our GoFundMe campaign, or a regular contribution through our Patreon appeal.
Tags: bullying, Gender, Lynn MacLaren, Oscar Kaspi-Crutchett, patrina harley, safe schools, senator louise pratt, Sexuality, Socialist Alliance, Sue Ellery, The Greens, WA Labor