It's all in the title: Wank Bank Masterclass
Fringe World is about to start, the spiegeltents are being erected around the city, and hundreds of shows are all vying for your attention.
At OUTinPerth we're getting bombarded with press released and interview requests, but some shows stand out from the crowd. The secret to a good Fringe Show really starts with the title, it has to be something that captures your attention.
Wank Bank Masterclass is a show that stood out.
The press release pitched the show as your chance to end up in a hilarious circle jerk with carrots. It suggested it would be a great night out for singles, couples, parties or even a blind date.
We asked the man behind the show, The Rural Ranga, to tell us some more about his hands on workshop.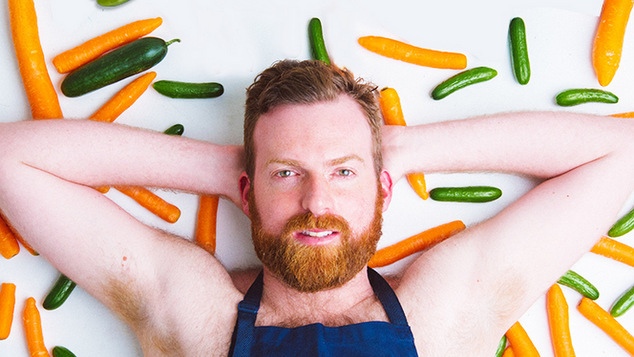 What were you doing when the idea for this show evolved?
It all started with an art project I did in NYC. I was doing the whole 'struggling artist' thing working at MoMA so I decided to make an art book by documenting my experiences.
I went around Manhattan massaging men and gave them a happy ending. I would then draw and document each client. From that I was contacted to teach a class and it all evolved from there into a show
You have twenty different ways of 'cock-handling', do they have names like in the Karma Sutra?
Yeah each move has a name and some even have a soundtrack.  I've been collecting a Wank Bank Bible so new moves are constantly added. 'Palm Sunday' is my favourite as I went to a strict catholic school and it's a great play on words.
Your master classes uses carrots, did you ever consider eggplants or other vegetables, bananas?
I use carrots, cucumbers and sometimes zucchinis. It is whatever is in season at the markets. I've developed great relationships with greengrocers and they keep an eye out for the biggest and best vegies, not that size matters.
The vegetable needs to be firm as people can get a bit carried away and I don't want to end up with some Baba Ganoush in the second row.
If you are bringing a blind date to the show, is there a chance this might seem a bit presumptive?
I think it's a great ice breaker. It's very light and fun. People are usually laughing and it gives people the space to communicate honestly in a non judgmental space.
Since the success of Wank Bank we have developed a female version Pussy Play which will debut at Adelaide Fringe this way you can do both shows keeping it even.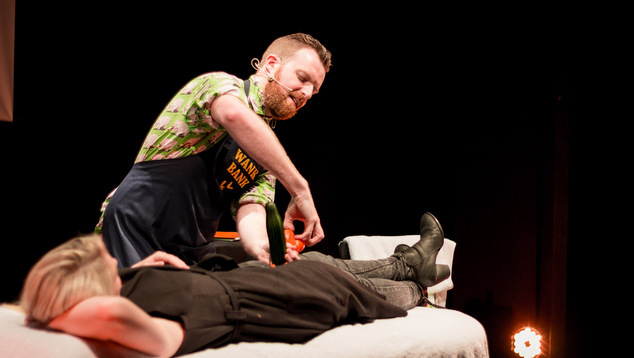 Our most recent podcast guest was Matthew Bacon, who is the Gay Men's Health Outreach Officer for the WA AIDS Council.
He told us that he'd recently come across a sexual term that was foreign to him. It came up while he speaking to some school students. 'Royale-ing' it's masturbating with a condom on (expensive but tidy).
What's the oddest expressions you've come across?
'Danger Wanking' is something people mention.
You must "knock one out" whilst in close proximity to any of the following; Your mum, a nun, your boss, a member of parliament, Anthony Callea. Ejaculation must be reached before your danger wank target comes (no pun intended) to investigate.
You worked as a full tension release masseuse in NYC, but where did you learn the skills that you share in the show?
I did training with an amazing group called Body Electric which focus on Taoist erotic energy and intimacy. It originated in the 80's in San Fran during the AIDS epidemic teaching people was to be intimate without any risk.
What's the biggest misconception about cock-handling?
That there is only one way to do it. Up and down.
Do you get much feedback from participants after they've gone home to practice their skills? 
Yeah people always contact me telling me there favourite moves.  Most feedback is that they haven't given hand jobs since high school so it's exciting to revisit and try something new. I've been to a few share houses and found the laminated worksheet of techniques on the fridge which is cute.
Wank Bank Masterclass is on from January 31 at Noodle Palace as part of Fringe World. 
Graeme Watson