What are you worth? Welcome to PRICE TAG's nightmare dinner party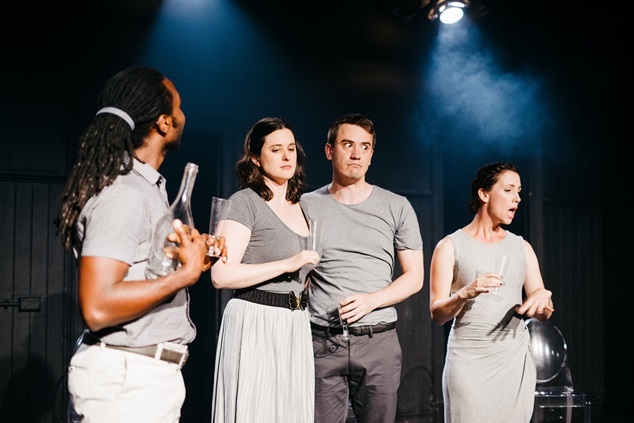 PRICE TAG | The Blue Room Theatre | Until Jan 28 | ★ ★ ★ ★
Have you ever sweat over which bottle of wine to bring to a dinner party? Lost sleep over a pre-soiree stain on the carpet? Local writer/director/actor Jeffrey Jay Fowler has been reading your diary and tapped into your nightmares with his Fringe World / Blue Room Summer Nights production; PRICE TAG.
The play opens on two couples, a bare set and the preliminary stages of a dinner party unfolding. Two couples dressed in neutral greys greet one another, and the hosts pontificate about their bountiful wealth and valuable possessions to the obvious discomfort of the couple "with less." The actors delivery and Fowler's written word establish the stark, wealth-obsessed world of PRICE TAG from the get-go as the couple "with more" underhandedly shame the couple "with less."
PRICE TAG jumps into the territory of surrealism with an unexpected left turn in the narrative. The more wealth each character holds, the more wretched and anti-social they become. The dialogue begins to repeat itself, coming from the mouths of other actors as they fluidly change roles throughout the party. Fowler cleverly inserts recognisable totems into the dialogue that prompt you to notice you've heard the line before – but the ritualistic performance doesn't become stale as the dialogue becomes more frantic and truncated and the players descend into fiscally-induced madness.
The play fits well into the realm of Fringe World, a story neatly told within an hour time-frame. The ensemble cast make for compelling viewing, and the writing balances the darker tone of the narrative with light-hearted humour and hysterical performances. You wouldn't miss the dinner party would you? You wouldn't. You couldn't! You won't.
Leigh Hill
Images:- Tanya Voltchanskaya