Amelia Ryan presents a rollicking romp of impending motherhood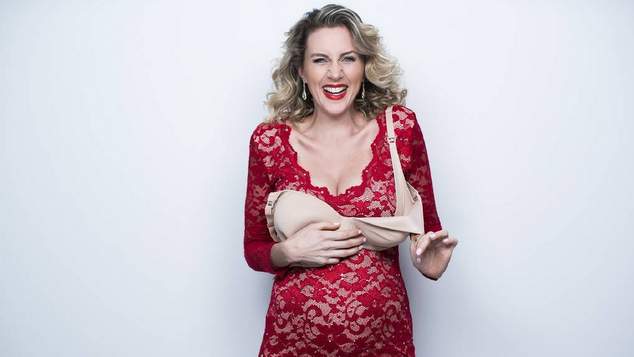 Amelia Ryan: The Breast is Yet to Come | Downstairs at the Maj | Until Sept 29 | 
★ ★ ★ ★ ★ 
With a show entitled The Breast Is Yet To Come, you know you are headed for an evening of clever double entendres that will either make you snigger with amusement or groan with recollections of procreation and parenthood. Amelia Ryan, doesn't disappoint. The evening is a rollicking romp of the highs and lows of impending motherhood by a thirty-something comic chanteuse.
From the moment Amelia sashays through the audience in her chiffon blue frock, sparkling diamantes and huge bulging belly, to being helped onto the stage by an agile young man who naturally takes pity of her in her current incumbent situation ("34 week old baby the size of a Shetland pony"), to her last torch song I Will Survive, we realise we are now in her world where we experience her precious pregnancy step by step, week by week, joke by joke and song by song.
Suddenly Humpty Dumpty is pulled from out of her belly/crotch area and hurled onto an unsuspecting male lap. Is she pregnant or isn't she? Well, we find out she was when she first wrote this show, but now Archie Ryan Tyler is about to turn one and amidst all the hilarity, he is the new love of her life "He's the only one I would give the boob to at 2am every single night!"
Illustrated by popular songs and musical theatre hits – with a witty re-write of all lyrics, we jump back in time to when Amelia discovers she is pregnant, knickers down, on the toilet, holding a stick with two pink lines in an AirBNB half way around the world and miles away from her partner, Zak. Only a gorgeous young male from Puerto Rico staying in the same accommodation is on hand to give her a big hug and congratulate her – once she'd pulled up her knickers of course! Not how she envisaged the momentous occasion of declaring she was pregnant would be!
Like the actual birth – nothing about her pregnancy goes to plan. Despite everyone's right to tell her how it is when one is pregnant, what to do and what to eat, the highlight of the show came in the song "Supercalifragilistic" or was that "super cautious fragile dip stick" or maybe "super constipated misfit?" Whatever the "super" words she made up – it was a tres clever interpretation of a fast paced tongue twister of a song which she certainly pulled off with Mary Poppins precision. Hormones raging, joints aching, all-day morning sickness, a baby-brain to boot and sex – a distant memory, all I can say is "Hats off to Ryan!"
It's certainly a shell-shocking experience after her glamourous life as a cabaret singer on tour overseas and ultimately doing as she pleases. "Is this it?" She asks, "Or is the best/breast yet to come?"
The best was still yet to come – certainly in the show as the climax for me and I believe most of the audience was demonstrated in Ryan physicalizing the act of giving birth whilst singing well-chosen snippets of songs to evoke the excruciatingly painful process of plunging out a "football through a tiny straw".
This was worth the wait and yet another hilarious moment in a show aimed at mothers, non-mothers ("lucky – you still get to sleep through the night!"), mothers-to-be and grandmothers, as well as men in all forms and sizes who did not escape acknowledgement and repartee. In fact, three were chosen to join Amelia on the stage and massage her feet and shoulders – whilst she sang of course!
Overall, Ryan's quick witted acute observations of obstetrics and impending motherhood combined with a crystal clear soprano range hitting all the high notes in true operatic fashion to the low sultry notes of soul demonstrated the huge vocal range this well-heeled performer can accomplish.
Accompanied dexterously by the charming Michael Griffiths (who will soon perform Lucky about Kylie Minogue) The Breast Is Yet To Come is a baby bundle of joy – even if you're not into babies or breasts! Amelia Ryan is definitely the Liane Moriarty of cabaret!
Fiona Cooper Smyth
---