Bibliophile: 'Bored Gay Werewolf' is a is a humorous and fascinating romp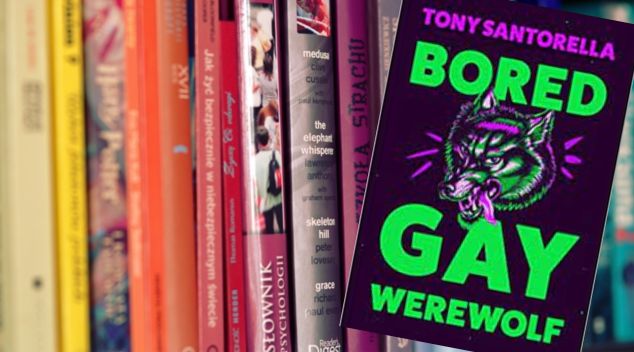 Bored Gay Werewolf
by Tony Santorella
Atlantic Fiction
Twenty-five-year-old Brian didn't think his self-destructive phase would last as long as it has. He had moved into a dirt-cheap studio apartment in the city nearly a year ago to get on with his life, but he had barely even unpacked.
With a job waiting in a restaurant to cover his expenses, he sometimes had to work double shifts and had only unpacked the essentials – laptop, kitchenware, clothes and lube, as he was unsure if his stint in the city would last.

Coming out as gay to his parents had been easy but there was no werewolf equivalent to finding gay porn on the family computer. So Brian had distanced himself from most people and his life was sleep, work and get drunk on repeat.
University had become too difficult as he battled his werewolf tendencies and he struggled with the hypocrisy of preparing himself for a vocation to do some good in the world with his monthly rampages that brought out his murdering tendencies.
Meeting the older, wealthier and more in control Tyler was a turning point in Brian's life. Fellow werewolf Tyler offered to mentor the train wreck that was Brian to make his monthly transitions less like being the only passenger in a run-away train.
Brian immersed himself in the fitness regime, meditation and daily mantras and even got going on some life skills such as being organised and knowing when the next full moon was going to happen in advance.
Tyler was a tough task master and didn't like excuses. Brian saw that Tyler meant well but was uncomfortable with some of his macho tactics. When Tyler's friend Mark joined 'The Pack', Brian struggled to fit some of his doubts into a tick-box exercise that Tyler preferred.
Originally from a town that was the site of the Salem Witch Trials, Tony Santorella has firsthand knowledge of waiting tables. He now lives in Washington DC with his husband and two cats and works in international development. Drawing on all his life experiences, his debut novel is a humorous and fascinating romp to find your pack, with some random gore thrown in to spice it up.
Lezly Herbert
---

You can support our work by subscribing to our Patreon
or contributing to our GoFundMe campaign.