Calls for 'The Project' to be axed after Reuben Kaye jokes about Jesus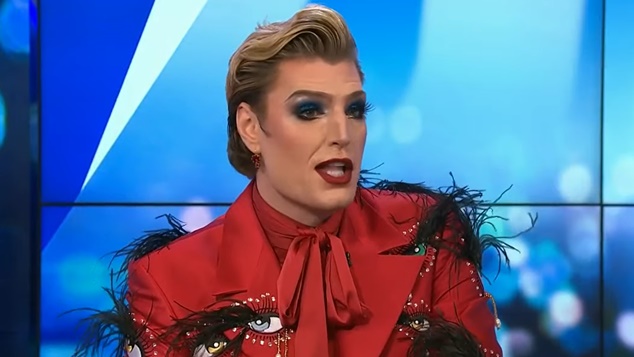 Outrageous cabaret performer Reuben Kaye has delivered a polarising appearance on Channel Ten's The Project. 
While some found his risqué jokes hilarious, the station has also faced calls for the entire show to be permanently cancelled.
Kaye shared that he's receives a lot of messages of social media from people who tell the camp performer he needs to accept religion in his life.
"I get a whole bunch on TikTok coming at me from a religious angle." Kaye told the show's panel that included Sarah Harris, Waheed Ali and Kate Langbroek.
"Which I think is hilarious because queer people, LGBTQIA+, predate any idea of God. We're present in the animal kingdom., if you prior to the Cambrian explosion I'm sure they were two amoebas listening to Lady Gaga, doing poppers, and banging away.
"I think it's hilarious when someone messages me and says, 'You have to accept Jesus's love or you will burn in hell', because I love Jesus. I love any man who can get nailed for three days straight and come back for more."
The joke sent Sarah Harris into fits of laughter, while Waheed Ali looked dumbfounded.
Earlier in the segment Kaye described his jacket that featured lots of eyes as being chosen especially for the Australian Christian Lobby.
Take a look at the segment. 
When the program posted the clip to their Facebook page the comments were filled with complaints, abuse, threats of violence and death threats against the guest and the show's hosts.
On Wednesday night the show's hosts offered an apology, saying the joke was offensive and not suitable for broadcast.
"We want to acknowledge the particular offense that caused our Muslim viewers but especially our Christian viewers.
"Obviously I understand just how profound that offense was.' Aly said.
Harris also apologised saying, "Live TV is unpredictable and when this happened in the last few moments of last night's show, it took us all by surprise, there wasn't a lot of time to react in any sort of considered way,' she said.
The hosts said Kaye's comments had caught them all by surprise.
"It's fair to say we weren't expecting a comment like that to be made." Aly said.
Reuben Kaye is currently touring the country and will be in Perth on Friday 5th May playing a show at The Regal Theatre as part of the Perth Comedy Festival. 
OIP Staff
---

You can support our work by subscribing to our Patreon
or contributing to our GoFundMe campaign.