David Campbell – I'm Not Gay!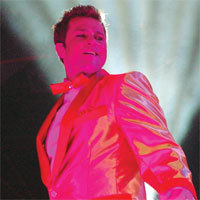 At the 30th Mardi Gras earlier this year, he held his own on a stage full of drag queens. He had a boyhood crush on Olivia Newton-John and is well-known for his fashion predilection for sequins and sparkles. Yet for all his Sir Elton-in-pink-chiffon campitude, David Campbell is – gasp – not gay.
When asked about his passion for gay couture, David laughs, 'If I liked cock more, I'd be gay, is the basics of it all.'
Jokes about his sexuality were standard in-between song banter as David played sold out shows across Australia on his recent Swing Sessions tour. However, the joke has its root (no pun intended) in 'It Takes Two,' when, as David explains, 'I decided I would help Jolene Anderson chose what dress she should wear, what earrings, how her hair should be done. And so basically, she started going, "Oh god, you're so gay." Now it's a big running gag. When I go to do signings, people say, "could you please write 'To Tina and Ian. I'm not gay – David Campbell.'" It's becoming like a catchphrase.'
While he might not be gay, David Campbell does know how to please a gay crowd, and gay men were some of David's earliest fans, when he started his career fifteen years ago. According to David, back then the gay boys came to watch 'because I was younger and prettier.' That might have been what first got them in the door, but years later, they are still there because David Campbell has proven himself a performer who understands what entertainment should be about – classic songs and big, bright, bold style.
And when presented with the chance to go where all wild fashion goes? Well, David donned a gold sparkle suit, painted his face and prepared to share a stage with Olivia Newton-John and Cyndi Lauper and party with the likes of Rupert Reid and Carson Daly.
'It was a monumental night,' David says of the 30th Mardi Gras and his performance of 'I Am What I Am' with Carlotta and more drag queens than you could shake a feather boa at. 'To get up there and be entrusted with that material and moment in the night was a great, great honour.'
David and Carlotta and their drag entourage were the 2am performance, and when they got off stage, David did what all good camp boys do and partied on until sunrise. Not that he would have been able to forgive himself had he left early and missed the performance of Xanadu by his boyhood crush Olivia Newton-John.
And as the sun came up and the party wound down, David, like the other tens of thousands of Mardi Gras partygoers, paid the price for the party.
'You know I had to go do Weekend Sunrise that next morning and I was messy. I turned up to Weekend Sunrise with that half drag makeup on. Andrew O'Keefe was not happy with the trashiness. You only get one Mardi Gras a year, if you've got to do TV afterwards, you've got to do TV afterwards. What was I going to do? Go home early?!'
Don't be silly, Mr. Campbell, you may not be gay, but you still know how to party.