Getting Personal: Sperm Donation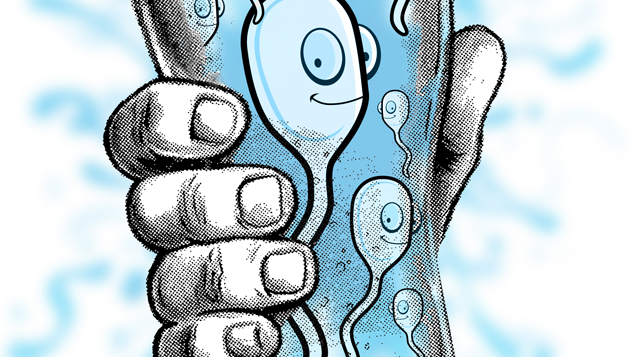 Ever wondered what it's like being a sperm donor? OUTinPerth's Zoe Carter talked with one Perth man who agreed to donate sperm to friends. We asked him about his experience as a 'known' donor.
Was it a surprise to be asked to donate sperm? How did you feel about it?
The two girls that asked me approached me quite suddenly. Being in my early twenties it's not something you get asked every day and it was quite a shock! Then there was a sense of appreciation that you were considered but there's also automatically this sense 'Am I going to have random children running around Australia?'
The girls they asked me saying that there was no pressure, that they could ask someone else that they knew but I was apparently the ideal candidate so knowing that I felt that there was no be all and end all for their journey and that gave me a little bit of a sense of relief.
I said that I'd have to think about it. I sat on it for a while and I really considered, well … I initially don't think I considered it enough at that stage, but I thought immediately stuff like 'How would my family react?', 'Would I be ready to look after a child if something were to happen later on down the track?'… but yeah, being asked was surprising but very daunting. It set up a really interesting ride.
So what happened after you agreed to donate?
Yes, it's a lot of meetings after that, [laughs] not a lot of meetings it's just basically meetings visiting a counsellor, making sure, checking history, getting blood work before you even go into the little room where you make your deposit.
We had to see a counsellor together and then individually and we were posed with really daunting situations really confronting, like 'can you trust these women? And, you know, 'What if they do renege on their contract and they decide you can have nothing to do with them or that you have to take responsibility? For someone in my early twenties I had a lot of trust invested in these girls but after that I had to return to the girls and ask them for their input I had to get assurances in the way of contracts I wanted to make sure I had no legal ties basically to the child.
I remember the first meeting we went to [the] fertility clinic, just me and the two girls. It was so weird watching families coming in and out, and we were so clearly the gay couple and the gay best friend. There were a lot more straight people than anything, that was interesting, but once we got in there to speak with the counsellor she really opened my eyes to the ramifications of this sort of decision, being IVF, can have on a child's life.  It's not as clear cut as I think people make out to be. Since they took away the anonymous aspect of sperm donation I think it's made it really tricky if you have good intentions to donate sperm but you didn't want to have that tie to the child. I now understand that, because you don't want that in eighteen/twenty years time someone to rock up at your door and be like, 'I'm your kid let's hang out!' It's terrifying, a terrifying idea that that could happen!
So once you get through the formalities, what actually happens?
Making the deposit is probably one of the most unattractive, awkward situations you can ever imagine. And the funniest bit is that you have to really get yourself in the mood. You have one opportunity and you have to collect a whole cup by yourself in this little room. There's a two metre by two metre room maybe, a black leather couch, and there's a little cupboard and a sink and in the top drawer there's pornographic material and magazines. In the cabinet there's only one gay porn magazine…I think it looked like something from early 2000 it was just horrendous! I ended up using that same magazine a couple of times after that before I just brought my own phone in and just watched porn on my phone.
Once basically you're good, they make you sign a bunch of waivers and they give you a little cup and you get to the little room and they've got lube and stuff. It's really very precise as well because you have to wait three days exactly after you last had sex before you go in. You actually have to time it really well – you can't do it a day around the three days, it has to be three days, and then you go in the clinic and do your donation. By the time three days turns around you feel like you're probably good to go. and then you just get…it's not cold surroundings, it's just strange…anyway you go in…..it was weird!
I think the first time it was the most confronting time because I had this perception that it wouldn't be so bright and clinical, and the other thing was that the girls were waiting for me so, um, I kinda went in and I'm like 'How long should I take?' I didn't want to look like I was taking too long, but I didn't want to look like I took too short a time.I really didn't know what to expect, and then there was that sense of expectation to get the first one out and the other thing is also all these really funny questions like 'Did I produce some sperm?' 'Was it good enough?' 'Did I screw up the sample in any way?' 'Should I be eating better?'…all these really big questions popped up in my head, it was a strange experience!
It was fine once I got there, I did the job but it was just quite comical like sitting in this weird room with dated porn just trying to get yourself horny. It's a struggle in such a clinical surrounding…if you can imagine, it's like trying to get sexy at the dentist. It's so clinical!
Do you have any advice for people thinking of approaching a friend to be a sperm donor?
I think it's about being open about the situation and just explain from the outset what you want, in terms of how you think, how your structures work because in the long run it doesn't matter if you walk away after the sperm donation period as a donor, biologically you're still linked.
I think it's making sure that you try to suss out, try to talk with the people you're helping, really nut out almost everything; where you want your boundaries to be and ask them where they want their boundaries to be. What I appreciated from the girls was that they invited me around, they were clear, they told me exactly what they were after. From the outset we had a number of conditions and we really just talked it out.
I guess that's the main thing, before you approach someone work out what you want personally even in just the way of would you want this person, your donor to visit the child on birthdays for instance? That's such a weird idea but if you can work that out at the start, work out what you're comfortable with, it will give the donor a lot less stress in their deliberations.  It's like trying to get sexy at the dentist, you know what I mean?
Check out the other post in this series about becoming a sperm donor. 
Zoe Carter
---
Support OUTinPerth
Thanks for reading OUTinPerth. We can only create LGBTIQA+ focused media with your help.
If you can help support our work, please consider assisting us through a one-off contribution to our GoFundMe campaign, or a regular contribution through our Patreon appeal.