Glitterbomb the patriarchy with 'Feminist Anthems' this Fringe World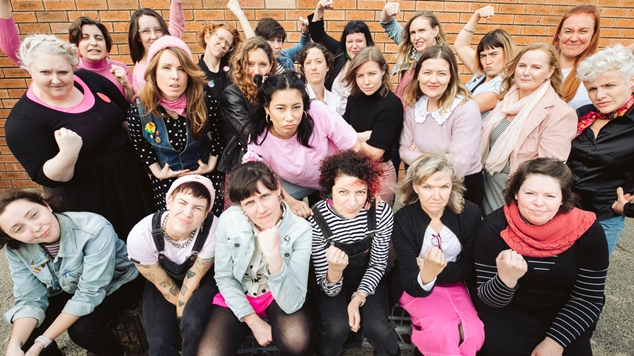 You're invited to glitterbomb the patriarchy with a riotous 25 voice feminist pop choir bringing you a set of anthems to incite your most justified rage and inspire your most hope-filled imaginings.
Hengequeens present the world premiere of Feminist Anthems, collaborating with some of WA's most iconic songwriters to create an energetic set of inspired anthems exploring and celebrating the lives of women and non-binary people.
Feminist Anthems features newly commissioned original songs by Mama Kin, Lucy Peach, Addison Axe, Della Rae-Morrison, Charley Caruso, Mei-Swan Lim, and Priscilla Gardner.
Bringing together this super cast of local was both a treat and a challenge for Hengequeens and Menagerie Choir founder-director Dr Claire Coleman.
"The process of choosing who we'd invite to write for us was difficult, given that WA has so many superstar women and non-binary songwriters. We were really spoiled for choice!" Dr Coleman says.
"Being a feminist choir means we wanted to use the commissions to capture as wide a range as possible of experiences living under patriarchy. Feminist Anthems tells these stories."
The final set includes the voices of women, non-binary people, First Nations, BIPOC, and queer identifying songwriters. Each brings their own unique perspective on life as a feminist in the current cultural moment.
Addison Axe's contribution, Better Days, describes experiences of sorrow, struggle and resilience.
"It's an exciting honour to work alongside my songwriting idols and Hengequeens on such an important WA project." says Axe.
"The daily brawl for gender equality can be bloody hard work, and Feminist Anthems is an uplifting reminder of all that we have to celebrate!"
Once the songs' lyrics, melodies, rhythms and harmonies were written, they were arranged for choir by Dr Coleman. But the biggest test was still to come; would they resonate with the Queens who would perform them?
Hengequeen member Nina Levy says resoundingly – yes.
"There's nothing quite like choral singing; being filled to the skin with music, feeling the sound physically in your chest, hearing it soar around you from other singing bodies." Levy states.
"What makes Hengequeens' Fringe debut really special, though, is that those magical melodies have been composed especially for us by some of our favourite local songwriters. And being part of a project that celebrates the work of female and non-binary artists makes my heart sing even louder."
The life of these exciting new works won't end at the conclusion of Feminist Anthems' Fringe World season. Thanks to grant funding from DLGSC, music scores and practice tracks for the new works will be made available online, at no cost, for other choirs to learn and perform.
"Part of the mission of Hengequeens is to amplify the voices of women and non-binary people, which we do in part through our membership and repertoire selection practices," Dr Coleman continues.
What better way of expanding that mission than providing tools for other choirs to diversify their own repertoire too?"
Catch Feminist Anthems at Fringe World on February 1, 2 and 4. For more info head to fringeworld.com.au
Image: Bridget Turner
---

You can support our work by subscribing to our Patreon
or contributing to our GoFundMe campaign.