Gloria takes you on a sentimental journey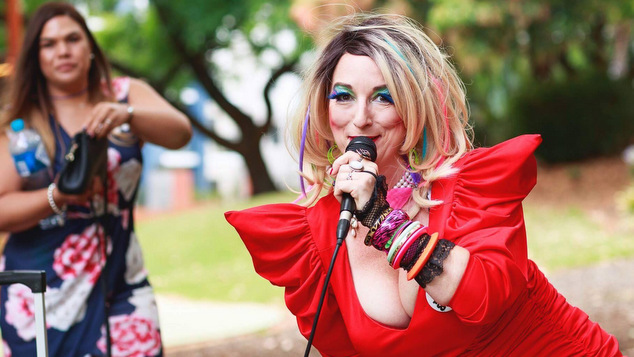 G-list celebrity Gloria has several shows during Fringe World and we tagged along to the technical run of one of them.
Gloria's 2016 show Gloria's Glorious Gloryhole returns on January 31st, it's a cabaret show filled with '80s classics.
Alongside that she's got a new show Gloria's G-Spot which opens tonight at Noodle Palace. The music based interactive quiz show will be on every Friday and Saturday during the festival.
The show we got to ride along for the tech run is Gloria's Love Bus 80s Tour. 
We were asked to meet in front of the Fringe World box office in the Cultural Centre, and it was vital that we arrived on time. Right at the anointed moment the larger than life hostess appeared and quickly wrapped us up into her world of excitement.
Within minutes we were singing in public, dancing down the pathway in front of the Art Gallery – delivering synchronised choreography – and fully inducted as part of Gloria's entourage.
The majority of the show takes place on a bus driving through the streets of Perth, it's quite inventive. Why book a theatre or a speigeltent when you can just get a bus.
If you were alive in the 80's you'll find a lot of memories at this show. If you went out clubbing in Perth during the late '80s or early '90s you'll enjoy it even more. Who remembers Arcadia? I'd completely forgotten about its existence.
When audience participation is part of a show I usually slump in my chair and try not to make eye contact, but this experience took me outside my comfort zone – and I was better for it.
As you'll see from the evidence below, I even did jazz hands.
Get tickets to all of Gloria's productions at Fringe World.