A good fun yarn with Hannah Gadsby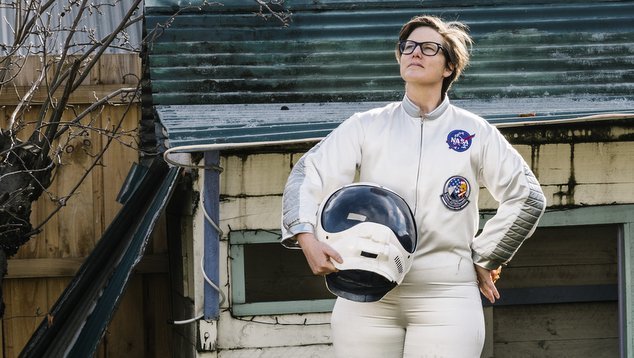 Art lover, screenwriter, funny woman and national treasure Hannah Gadsby will be joining the slew of comedians heading to Western Australia for Perth Comedy Festival later this month. We caught up with the duchess of deadpan delivery to talk 'Please Like Me', Taylor Swift and her all-new show.
Are you bringing a new show to the west coast this time around?
This one's called Dogmatic. It's a few little good fun yarns… basically I'm recreating Taylor Swift's '1989' World Tour.
Are you having the same sort of frenzied reaction from your fandom?
Uh, no… but we'll work on that. Hopefully by the time I get to Perth: Rabid.
I'll start whipping up a frenzy over here then.
Love it! Thanks. You can be in my squad.
We'll have to find some time to film an over-dramatic video clip with explosions and slow motion walking.
And bullying people!
I can't wait. Are you looking forward to coming back to Perth?
Yeah, I like Perth. I'm doing a new venue this year so I'm pretty excited about that. Fancy. I've got a brother who lives in Geraldton… and also a friend I used to play golf with when I was a kid so I get to visit some good people while I'm in Perth.
You big into golf?
Nah. I used to be when I was a kid.
What happened?
It's boring. I grew up in a small town in Tasmania so golf seemed fun then. Then I found cinemas, you know? I mean I like walking, but not all day.
Aside from your current comedy festival run, 'Please Like Me' has been a pretty big deal.
It was fun! Well, no not fun, the storyline wasn't that fun was it? Nah, it was good. It's such a great cast and crew so it's always fun group of people to be involved with.
I heard you needed a bit of help to get psyched up for your first on-screen kiss?
Eh, it was alright in the end. I just hooked in, you know? It's very nerve-wracking, it's not my kind of thing to just be pashing a stranger on an early morning but I'm very professional. The first time I started kissing too soon, the camera wasn't anywhere near us. They were doing a leading shot and it was a little embarrassing. You just gotta keep kissing and I didn't know how long I could maintain for… but I did it. Very professional.
How does it feel knowing that kiss was broadcast around the world?
I don't really think about it. Sometimes people come up to me in the streets and remind me and I'm like… "Oh yeah. Yeah." I don't really watch it on the TV. I mean I watch it when I get round to it but I don't think about it much. I keep moving like a shark.
Remind Hannah Gadsby of her on-screen kiss at her new show 'Dogmatic' at His Majesty's Theatre, Saturday 23rd April. Tickets available from perthcomedyfestival.com.
 Leigh Hill