Malcolm Turnbull hangs on to Prime Minister role despite mass resignations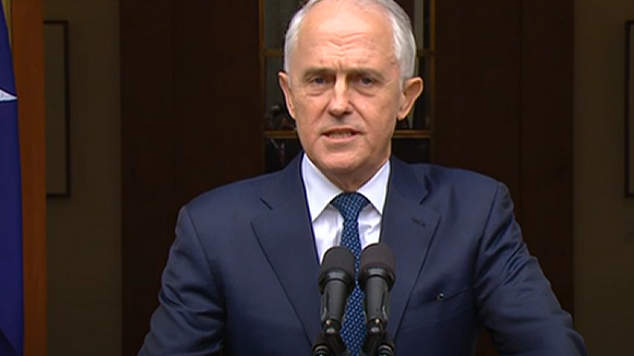 Prime Minister Malcolm Turnbull is hanging on to his job despite mass resignations from his team and has set a Friday high noon deadline for his internal critics to call for a second spill motion.
Speaking to reporters in Canberra Turnbull said he awaiting for a letter form his colleagues requesting a second party room meeting to address the issue of the leadership and if that occurred he would not be standing as a candidate.
On Tuesday the Prime Minister narrowly survived a leadership challenge from Home Affairs Minister Peter Dutton but over the last few days multiple members of his cabinet and junior ministers have declared they have lost faith in his leadership and handed in their resignations.

Turnbull said there was still a cloud hanging over the political future of Peter Dutton as questions over his eligibility to sit in parliament had been raised. Earlier in the day the government voted down a motion to refer Peter Dutton's situation to the High Court, the vote scraped through by just one vote with the Prime Minister voting with his colleagues.
It has been suggested that Dutton may not be able eligible because a family trust, which he is a beneficiary of, receives commonwealth funding. The trust is the owner of several child care centres.
Prime Minister Turnbull said he had asked the Solicitor General to look into the case and provide advice on whether it should be sent to the High Court.
"It's important that before the party meeting is held that we access to the advice of the Solicitor General on the eligibility of Mr Dutton to sit in the parliament." Turnbull said. "I cannot underline enough how important it that anyone who seeks to be Prime Minister of Australia is eligible to be a member of parliament."
Turnbull said if he received the letter from his colleagues he would schedule a meeting for midday tomorrow but said he had been the leader of a very effective government.
"The government I have led has been a very effective one. We've achieved an enormous amount in economic reform and social reform." Turnbull said.
The Prime Minister said that a minority in the party room, and people from outside the party room had "bullied and intimidated" others into trying to make a leadership change.
Asked if he would stay in parliament if he lost the job of Prime Minister, Turnbull said he never saw the benefit of former Prime Ministers being in the parliament.
Earlier this morning the government successfully adjourned parliament early, putting it on hiatus until its next scheduled sitting in September. The move avoided the embarrassment of the Prime Minister having to front Question Time with many members of his cabinet and ministers moving off the front bench.
This report is currently being updated – hit refresh for the latest additions.
OIP Staff
---