Review | Obscura is a femme freak dream show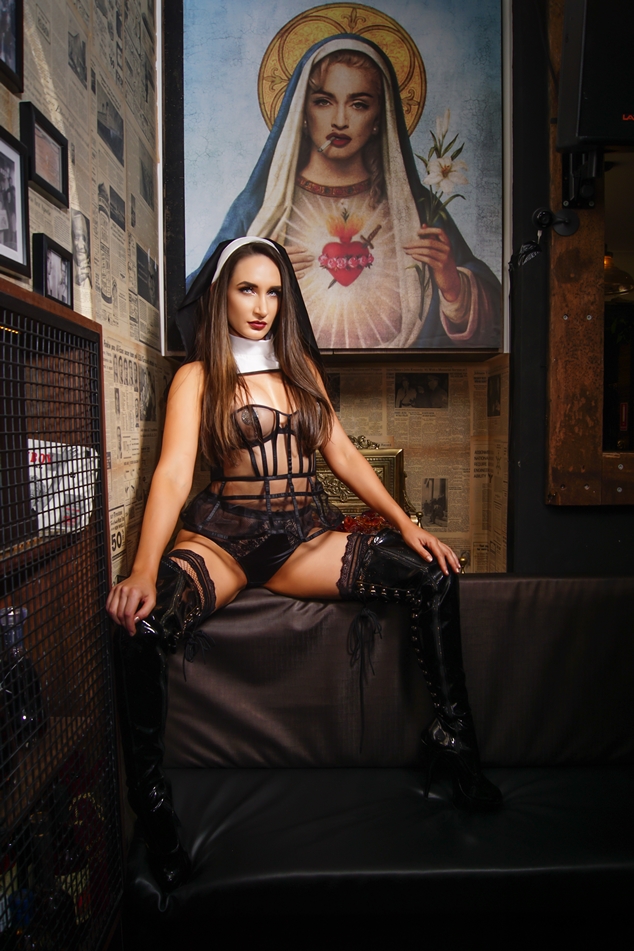 Obscura | Connections Nightclub | til Feb 9th | ★ ★ ★ ★ ½ 
Cabaret isn't a stranger to Fringe, I'd almost say it's the heart and soul of the festival. It's tantalising and entertaining – it's a celebration of drama, hard earned skill and form. Obscura is no exception to this – But it certainly delivers it's own twist on the classic genre.
It's not often you walk into a show to be greeted by burly men in Pup hoods, sniffing out those still finding their seats, skulking about in the shadows. Connections had been turned into any fetishists dream – What's not to love about buying a drink while powerful, crop wielding women reign in wayward, attention seeking Pups? I'm a sucker for a good pre-show roaming entertainment, as was the rest of the audience. In an almost full house, bums firmly planted on seats, heads swung around the room trying to catch glimpses of what was to come – Twice I heard someone say "Is that a chain spider web on stage?" in a tones that almost said "What could that possibly be used for?!" The answer, if you're wondering – is a lot.
Ruby Slippers, Burrito Empress and theatrical institution of glitter and sass – is your MC for the night. Arriving the only way you could expect one of such esteem to arrive, carried in on the shoulders of hooded men. Announcing her presence and starting the show of with some expectations and introductions for the uninitiated – a mixed bag crowd of first time cabaret goers, Connoisseurs of the genre and kinksters alike. It was clear Ruby was here to lube you up, and ease you into the night (If she didn't fall over doing it). The effortlessly fierce stage presence Ruby brings to the stage is sprinkled with the best kind of sleaze and sex appeal – and an un-fuck-with-able vibe.
Obscura offers only a small selection of the immense range of talents from your stage darlings – Wild Kat, Essie Foxglove and Ivory Bound. I can't recommend seeing any one of these performers in their elements enough. Collectively they are bold, crop wielding temptresses, Like sea sirens, it's impossible to take your eyes of them – But why you would want to is beyond me.
Of course, these ethereal and obscurely regal misfits wouldn't be caught dead without some glorious sensuously hooded Bunnies to help run the show, reign in the crowd and complete their entourage. Stella Tempest and Gigi La Banger are ready to do just about anything to keep the blood pumping through the body (rather than settling elsewhere) – watch out for these two, You might find yourself with a carrot trusted upon your person if you're not paying enough attention. They bring a light cheeky air to an otherwise brazen and bold atmosphere.
Wild Kat, one of Perth's most beloved fetishists is, as always, absolutely commanding on stage. She may be small, but god is she mighty! Inviting you into the hedonistic corners of her mind, Wild Kat serves up more fire than a box of Redhead matches. From a stern pony tailed domination dreamboat, to Belly-dancing Kajira and even an 8 legged spider queen that even this arachnophobe was transfixed by, she truly is Wild by name and wild by nature.
Ivory Bound is a one of a kind preforming, fire breathing machine (Well, not in connections – We can't have them actually burning the house down). Ivory Brings with her colour, tease and a body that just won't quit. This minx brings a new meaning to the term "sex kitten" and isn't afraid to bring some shock, satire and straight up weirdness into the mix. Having travelled the globe she's part mermaid, part pussy cat, part wild card. It's hard to know what you're going to get from Ivory – a twist of circus? a bit of strip? a strange feeling of butterflies? I don't think there's much this one woman show can't pull off.
The absolute highlight of the show however, is the ever elegant and formidable Essie Foxglove. Essie is pure, unadulterated walking art. She is the kind of performer who could hold your attention for an hour, by just standing on stage. A finely tuned, conceptual artist, She's a total package. Art is Essie and Essie is Art. She takes inspiration from fashion – bringing Thierry Mugler in as a muse, her first piece was a peep show gone dark, Emerging from her cocoon to let the crowd bare witness to the sheer intricacy that is her consistently stunning aesthetic and costuming. It's almost a shame to see it come off – But never fear! Essie doesn't take her costuming lightly – right down to the final moments. Essie pulls of another seamless piece, that's like witnessing The Witch of the Waste hypnotise you into a paralysing enthralment. Another incredibly costumed and constructed piece, I was not ready for the surprises that lay under that spectacle of a hat.
Despite some clunky moments that come with playing at a different venue, and my personal least favourite kind of audience participation – A talent show, Ruby made sure the Freak flag stayed up. Turning the small moments of slight disarray, into wonderful moments of attitude galore – If nothing else they came through as raw, real and honest to the perils of the stage.
Obscura is without doubt, worth the visit – But apparently, it's not for the faint of heart, With a couple abandoning the show rather early, during a particularly titillating and hilarious "Shitting Kitty" moment – It looks like some hard limits might have been pushed, But defectors from the femme freak dream show aside, the entire audience, were 100% on board. From chanting "Ruby Slippers, I'm sick of your shit!" with wild abandon, or purring out some sensual "Yes, Daddy." right on command – If you find yourself at their final show on Friday night, I can assure you, You might go home needing a cold shower.
Obscura has one more performance at Connections Nightclub this Friday February 9th. Tickets and more info available from fringeworld.com.au
Sam El
Image Credit:- Wild Kat
---
Support OUTinPerth
Thanks for reading OUTinPerth. We can only create LGBTIQA+ focused media with your help.
If you can help support our work, please consider assisting us through a one-off contribution to our GoFundMe campaign, or a regular contribution through our Patreon appeal.