Opinions divided over Israel Folau's statements about gay people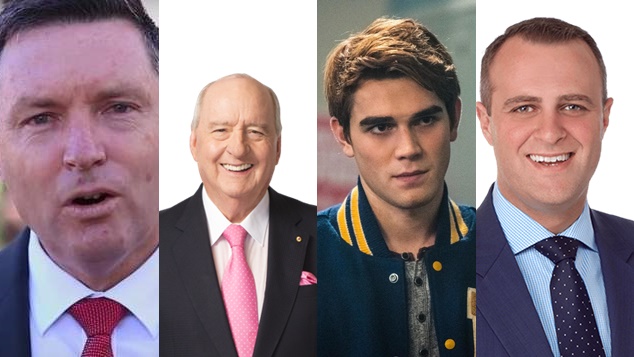 The debate surrounding rugby player Israel Folau's public comments saying that gay people will be sent to hell unless they repent for their sins shows no sign of abating.
Discussion regarding religious freedom, freedom of speech and respect for LGBTI people has centred on the high profile rugby player after he made a comment on Instagram saying that God sends gay people to hell.
Rugby Australia met with Folau to discuss the issue and said he would not face any disciplinary action, but said he could have put a more 'positive spin' on his views. More than a week after the story first broke, the commentary around the issue continues.
The latest voice in the debate in actor KJ Apa. The Riverdale actor posted his thoughts on Folau's statements on his own Instagram account.
"Very disappointing comments..our role as Christians is to LOVE not Judge.
"What gives you the right to condemn? Are you perfect?" Apa asked. Before offering the advice of "Sit down."
Appearing on ABC's The Drum LGBTI rights advocate Dr Kerryn Phelps said the comments made Folau look "silly".
"People are entitled to their views, but not everyone is entitled to express their views if they're hurtful to a group of people and you're a celebrity. Israel Folau looks a bit silly and boring – even the Pope has declared there isn't such a thing as hell." Phelps said.
Sydney radio personality Alan Jones shared his opinion in The Australian this week, criticising Rugby Australia for their stance on the issue. Jones said Rugby Australia has been "gutless" and was too afraid of losing sponsorship from QANTAS.
Rugby's major sponsor had publicly said they were very disappointed by Folau's statement.
"Qantas objecting to what Folau is saying about homosexuality is beyond laughable."
Jones said the airline had a double standard when it came to LGBTI rights, arguing that it would criticise Australians but happily maintain a partnership with middle eastern based airline Emirates.
"Qantas finds the comments disappointing," Jones wrote.
"I beg your pardon? Aren't Qantas in partnership with Emirates Airlines and aren't the Islamic injunctions against homosexuality in the United Arab Emirates totally oppressive of homosexuals?
"Indeed, some of the militant Muslims urge homosexuals should be put to death.
"So do I have this right? It's OK for Qantas to have a partnership with such a company, yet they want to beat the drum about something Israel Folau has said."
QANTAS chief Alan Joyce was also in the firing line from former Labor leader Mark Latham, who suggested that Joyce was guilty of human rights abuses.
"Being gay has nothing to do with running an airline, yet Alan Joyce consistently uses his sexuality and Qantas sponsorship $$$ to try to control what other people say and think. The human rights abuse is by Joyce, not religious Wallaby Israel Folau." Latham said on Twitter.
Liberal MP Tim Wilson shared his thoughts on the Today show saying it was important that Folau be able to share his thoughts.
"He might have done things on the basis of morals, he might have done something on the basis of civility, but he certainly hasn't done anything on the basis of law," Wilson said.
"If you want a free society, and I do, a country where people are free to express their opinions and be held to account for them, all he's done is exposed himself to the nation as having a very, shall we say, narrow view about humanity and obviously he's exposed himself as having deep religious conviction."
The Australian Human Rights Commission entered the debate on Wednesday offering to speak to Folau about the harm his comments could potentially cause.
Human Rights Commissioner Edward Santow told Australian Associated Press that the commission would reach out to Rugby Australia to offer assistance.
"As a high-profile sportsman who enjoys the admiration of many young Australians, Israel Folau's comments about LGBTI members of our community have the potential to cause enormous harm," Santow said.
"The freedoms we enjoy in Australia mean we all have to be especially careful to consider the impact of our words on others.
"Young people can be especially vulnerable to hurtful statements about things they can't control – be it their race, religion or sexual orientation.
"Even if it wasn't his intention, we know that comments like those Folau made on social media can increase the vulnerability of young people to distress and self-harm.
"Today I will write to the Australian Rugby Union to offer to meet with Folau – to hear his side of the story, and to discuss how he can live out his faith while being conscious of the impact his words can have on others."
The suggestion that the Human Rights Commission would get involved drew strong criticism from Lyle Shelton, the former head of the Australian Christian Lobby and official spokesperson for the Australian Conservatives.
Posting on Twitter Shelton said banning the bible would be next on the agenda.
"We are not free when we live with the fear of a tap on the shoulder from the government-funded speech police. What's next, banning the Bible?"
Martin Iles, the new Managing Director of the Australian Christian Lobby said Rugby Australia had done the wrong thing by holding a meeting with Folau to discuss his views.
"ACL is concerned that the so-called 'ongoing dialogue' with Rugby Australia about Falou's appropriate use of social media could stifle his freedom to speak openly about his faith and marginalise his Christian identity into the future.
"The real test will be whether Falou continues to have the same freedom as other players to speak up for his beliefs, which are shared by millions of Australians." Iiles said.
Anglican Minister Peter Jensen however said Folau had been wrong to single out a particular group in society.
"It's unfortunate that he singled out one part of the community. He shouldn't have. Gay people are not singled out by the judgment of God. They are not the only people who need to repent; we all do. People of whatever orientation are in need of the grace and mercy of God." Jensen told Christian website Eternity News.
OIP Staff
---