Review | Matthew Mitcham: Under The Covers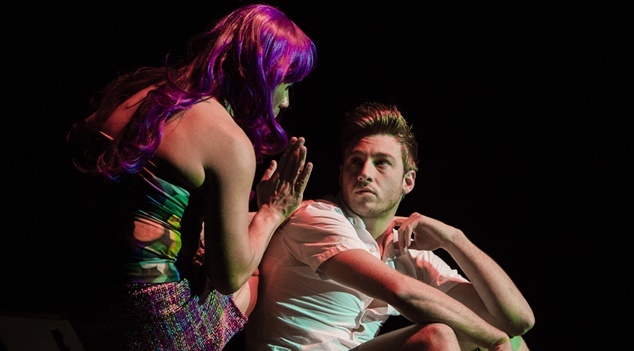 Matthew Mitcham: Under The Covers | Perth Town Hall
Until Feb 19 | ★ ★ ★ ★
Under the Covers is Matthew's second cabaret show following on from Twists and Turns. This new work premiered in Perth this week during the Fringe World Festival 2017.
Matthew Mitcham erupted onto the cabaret scene in 2014 with his first show Twists and Turns, a refreshingly real production. Winning best cabaret show of the Perth Fringe World Festival in 2014, he brought the cabaret show back twice to Perth audiences with his original work. Under The Covers cabaret follows on with similar themes and song, the story line is a delightful way of complimenting his first.
Matthew is great at charming the audience with his honesty, exploring universal experiences of mental health and depression through song, humour, candour and his signature ukulele. These experiences of the human conditions are relatable to many; stuck on the couch slightly catatonic watching television and eating comfort food.
The life of an elite Olympian sports athlete is something you have to commit full-time to be successful in. Like many careers where you gain recognition, there can be extreme highs and lows.
These highs and winning moments are ephemeral; like life itself. Once you get there they disappear, those highs are gone; the void is all that remains.
Transitioning from the highs of being an elite Olympian athlete to the lows of learning how to be a functioning adult when you retire from your sports career. When you have no life skills other than the training it took to be a successful athlete, where you don't even know how to do use a washing machine or do your tax, there can be a period of nothingness; an extreme low.
How do you fill those voids in-between, what do you reach for, what is easiest or closest to you? Is it drugs, alcohol, casual anonymous sex, or all three; or co-writing a new cabaret show. The life choices we make to handle the changes; gracefully or disgracefully.
Rhys Morgan, a.k.a Spanky, an award winning cabaret performer in his own right, is Matthew's stage wife. Spanky is Matthew's twisted mister sister gender and racial diversity quota drag queen sidekick. Spanky navigates Matthew onstage through a therapy session around his mid-life crisis after retiring from elite sport. All the big questions are asked, who am I and what is my purpose; the universal human experience; the big life questions.
Accompanied by the handsome and accomplished Matthew Ogle on the keyboard, the trio's cabaret journey on the Perth Town Hall stage travels through the emotional peaks and troughs in Matthew's unique story.
The songs sung solo with ukulele, harmonically as a trio with piano and narrated by both Spanky and Matthew is all about our perspective of riding the highs and lows life delivers us, the life choices we make to come out the other side happy; no matter how bumpy the transition process.
An enjoyable and entertaining night out in the beautifully historical Perth Town Hall Stage every night at 7pm until Sunday February 19th. Tickets and more information available from fringeworld.com.au
Guy Gomeze