Review | Stark thriller offers complex story of loss in 'Limbo'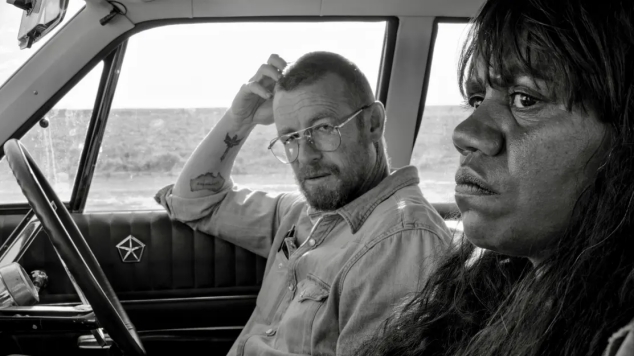 Limbo | Dir: Ivan Sen | ★ ★ ★ ★
A jaded detective arrives in a small remote outback town that bears the scars of years of mining for valuable gems. Travis (Simon Baker who won acclaim as The Mentalist) has been sent to the town of Limbo to investigate the cold case murder of local Indigenous girl Charlotte Hayes 20 years previously.
Filmed in black and white in the South Australian desert town of Coober Pedy, the dusty moonscape is littered with abandoned cars and shacks for the outcasts who continue to go underground to mine or scrounge the piles of discarded stones for missed opals.
Travis has a problem because the Indigenous people of the town don't talk to cops, especially not White ones. His talks with surviving witnesses reveal how they were treated twenty years ago when Charlotte's disappearance wasn't taken seriously but, just as he is making progress with the victim's fractured family, he finds that he is running out of time.
Ivan Sen, who wrote and directed Mystery Road in 2013, continues to expose the impact of a hugely biased justice system on Aboriginal families in Australia. With echoes of the Western genre, Limbo is a complex story of loss where there can be no winners.
Sen says "The source of these ideas has largely come from my own personal experience, from family members and friends who have been victims of crime. I have witnessed their struggle, not only for justice, but also for fairness and recognition for the Australian justice system."
In this powerfully stark thriller, everything is in limbo, from the abandoned mines that pock-mark the landscape … to the marginal characters struggling to make the best of their meagre lives … to the detective who finds out the truth but is just as powerless as everyone else.
Don't miss the live-in-cinema Q&A with director Ivan Sen and lead actor Simon Baker following the 6.30pm screening of Limbo on Tuesday 16 May at Luna Leederville.
Lezly Herbert
---

You can support our work by subscribing to our Patreon
or contributing to our GoFundMe campaign.