Review | Strut Dance mesmerise with Sunset at Perth Festival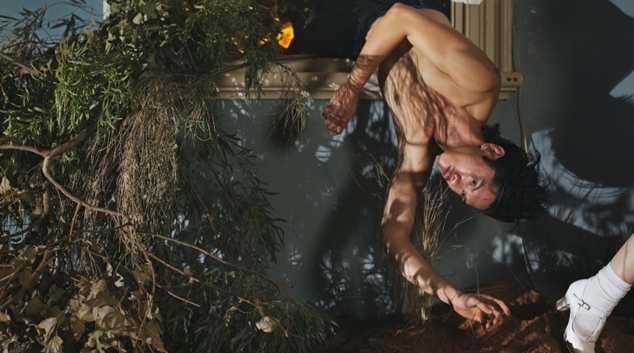 Sunset | Sunset Heritage Precinct | til 17th Feb | ★ ★ ★ ★ ★ 
I was full of excited anticipation when I wandered up to the ominous Sunset Heritage Precinct perched on the hill overlooking the Swan River on the far edge of decadent Dalkeith. There are stories of the buildings being haunted and so to rock up at nightfall gave me a feeling of trepidation. I knew it began life as Claremont's Old Men's Home from 1904 and was renamed Sunset Hospital in 1942 to house the men who came back from the war. It was a sanctuary, a place of escape, a home and a hospital away from the harshness of the bush, the hardness of the city and terrors of war. In 1965, it accepted women into its fold and became a general hospital, such was its value at the time. But in 1995, Sunset was decommissioned and the memories, mementos, people and stories faded away like ghosts.
The soft yellow glow of vintage lights in the surrounding gardens greeted me along with friendly actors in period costume unobtrusively going about their business while people arrived, bought drinks, and stood around chatting before the performance began, soaking up the warm atmosphere of a hot summer night.
A lone violinist took up his bow under the outstretched arms of a flood-lit tree and played a mellifluous tune before turning to walk towards one of the smaller heritage buildings. Like the Pied Piper of Hamlyn, we, as a compliant audience dutifully followed him, mesmerised by his music in the stillness of the night and the soft beckoning of actors, herding us gently like sheep into a pen.
Inside the derelict cottage, mounds of red dirt with sprigs of bush flowed throughout the dimly-lit rooms as if the outback had come in – symbolic of nature forcing its way in to where it would have been before the building was erected.
We then entered another building housing a large hall with Victorian style stage complete with proscenium arch. Simple retro-style chairs were scattered around the circumference for us to randomly choose where we sat whilst having the ability to move during the performance if required.
What occurred next proved to be the complete embodiment of a theatrical experience that blew the mind. It was the most dramatic, atmospheric, immersive, 360 degree, epic musical theatre dance experience not to be missed in your lifetime or the next!
Set to the dramatic and evocative music by composer and vocalist Rachael Dease, the production and cast brought to life the memories of one particular man based on the fictitious Sunset resident, an old immigrant man, Alfred Ganz who recounted a poem (by Humphrey Bower) of Sunset. Memories and stories were brought to life by a range of dances and songs depicting the era in which they occurred – the good times, the bad times and the tragically tormented times.
A highlight was a scene in the kitchen behind the hatch where the barber shop-styled "chef" comically made a rather messy cake as he dances to the evocative song by Ethel Merman If I Knew You Were Coming I'd've Baked a Cake!  Party time with dancers celebrating then dissolves into more memories.
Actors and dancers gave snap shots scenes of the residents' world at Sunset as they performed in and around us, transporting us back to another time. It was as if we were encased in a time machine going back to when Sunset was actually alive with people and patients, nurses, doctors and visitors. More poignantly, we were seated in an actual room where they would have eaten their meals or watched a show. The paint was still peeling off the walls and the internal décor, untouched.
The dramatic tension combined with frenetic dancers became more and more intense, one scene, one emotion, one place of action flowing effortlessly yet energetically into another and another and another as the performance progressed and the stories unraveled. It was intoxicating and completely captivating!
What enhanced this one-hour plus performance were the sound effects, special effects, music and dramatic lighting.  It was an atmospheric overload of the senses – a cinematic experience whereby we were not cut off from a two dimensional screen in cosy seats watching the action from afar – but instead, we were integrated within the performance. Close enough to feel we were part of the action yet far enough away as to not feel intimidated or confronted. However, the production is not for the faint-hearted! Some scenes were bizarre and slightly obscure until you worked out what it all really meant.
A notable performance by a dancer portraying a nurse initially in control and a comfort to her patients until she becomes uncontrollable herself, consumed by her patients' inner turmoil was an incredibly touching moment. In the words of Alfred Ganz, "She comforts us and takes on all our pain."
Likewise a grieving mother dressed in black in the hall trying desperately to grab her daughter through windows where she was passed around by men outside was another moving scene and reminded me of what parents must go through when their children stray, perhaps from drug use or other external influences out of their control. It was an intriguing scene and whether performing inside the room or outside through the windows, the relentless energy of the mother and unified pace of the dancers outside, lit up by beautiful lighting effects, was inspired!
Slightly frustratingly at times, were the words of certain new songs sung and scripted text – muffled, obscured and lost. Whether this was due to the need to enunciate more over the natural echoing acoustics of the old building combined with background music and sound effects, I am not sure. I just know I couldn't decipher a few things and I dearly wanted to hear every single word sung or spoken of this amazing performance.
Hats off to all the performers: Antonio Rinaldi, Bernadette Lewis, Brendan Hanson, Callum Mooney, Humphrey Bower, Kynan Hughes, Natalie Allen, Sarah Mealor, Scott Galbraith, Timothy Green, Viola Iida, Zachary Lopez plus musicians Brian Kruger (Violin), Rachael Aquilina (Violin), Kathy Potter (Viola) and Tristen Parr. Their energy, stage presence and embodiment of their characters and their characters turmoil was mesmerizing and engulfing.
Congratulations to all involved, notably Artistic Director, Maxine Doyle and Director Paul Selwyn Norton, in having the vision, expertise and talent to create a work of performing art that will endure the test of time as Sunset Heritage Precinct itself. I am sure the resident ghost would agree!
Sunset will be at the Sunset Heritage Precinct until Sunday 17th February. For tickets and more information head to perthfestival.com.au
Fiona Cooper Smyth