Sydney Gay and Lesbian Mardi Gras launches its bid for World Pride 2023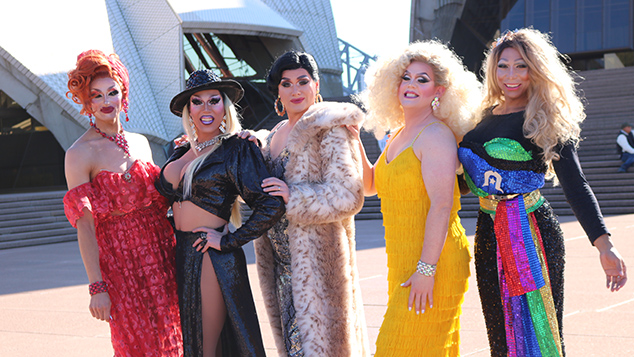 Sydney Gay & Lesbian Mardi Gras has announced their formal bid for WorldPride 2023.
With support from the Department of Premier and Cabinet, ANZ, Tourism Australia and Qantas, an Australian delegation sets out this week to travel to key international destinations where they will present the case for Sydney to this marquee LGBTQI festival.
WorldPride is the largest gathering of LGBTQI communities globally, and is held every two years in a host city. If Mardi Gras is successful in its pitch to InterPride – the international association of pride organisations that decides the location – it will be the first time WorldPride is held in the Southern Hemisphere.
It is anticipated that WorldPride will bring over one million visitors to Sydney from all over the globe, for a festival which will include significant new events on top of the annual Mardi Gras program. In 2019 Sydney's Mardi Gras festival made a $131.1 Million contribution to the NSW economy by bringing over 68,000 visitors to Sydney from interstate and around the world.
Organisers say Sydney WorldPride has the potential to attract over 1 million attendees, with a total economic footprint of $600-800million
Mardi Gras Board Member and 78er Robyn Kennedy is part of the committee leading the bid process, she said it's exciting to putting Sydney's case to the world.
"We're excited by the potential of WorldPride Sydney 2023 – it's the largest and most important LGBTQI festival in the world. We feel bringing this to Sydney will have a positive impact on the Asia Pacific region with regards to social justice and equality for LGBTQI communities."
ANZ Chief Financial Officer and Pride Network Sponsor, Michelle Jablko, said the proposal to host World Pride would build upon the banks strong relationship with Sydney Gay and Lesbian Mardi Gras and the wider LGBTIQ+ communities.
"ANZ has a longstanding partnership with Sydney Gay and Lesbian Mardi Gras and we're proud to support them in their campaign to bring WorldPride to Sydney. This is one of the many ways ANZ demonstrates the importance we place on diversity, inclusion and respect in the workplace and broader community."
The state's Arts and Tourism Ministers are also backing the bid.
"Every year the eyes of the world look upon Sydney as we light up the southern hemisphere with our Gay & Lesbian Mardi Gras festivities," said NSW Minister for the Arts Don Harwin.
"It's exciting to think we could be bringing the world to Sydney for WorldPride2023 where we can showcase our beautiful global city to the world.
Tourism Minister Stuart Ayres said Sydney was a global city that was well suited to hosting global events.
"Sydney is renowned for our inclusive and welcoming culture for all LGBTQ visitors and I can't think of a better way to demonstrate this than by hosting WorldPride2023.
"WorldPride is a global event and it belongs in Australia's global city," said Tourism Minister Stuart Ayres. "Sydney is the events capital of the Southern Hemisphere, amazing harbour, delicious food and beverage, world class transport and a history of celebrating diversity like no other."
WorldPride 2023 will coincide with the 45th anniversary of Sydney Gay & Lesbian Mardi Gras. The bid's outcome will be decided by InterPride members at the AGM in Athens in October 2019. WorldPride 2023 would include additional major events such as an 80,000-person pride march down the iconic Oxford St in Darlinghurst, an international LGBTQI human rights conference, a Bondi Beach concert for 30,000 people and many more major events accompanying Mardi Gras' usual programming.
Plans to bid for the event were announced at the Annual General Meeting of Sydney Gay and Lesbian Mardi Gras back in March. World Pride 2019 is being held in New York City to coincide with the 50th anniversary of the Stonewall Riots. World Pride 2021 will be in Copenhagen, Denmark.
OIP Staff
---