Two gay men publicly flogged in Aceh Indonesia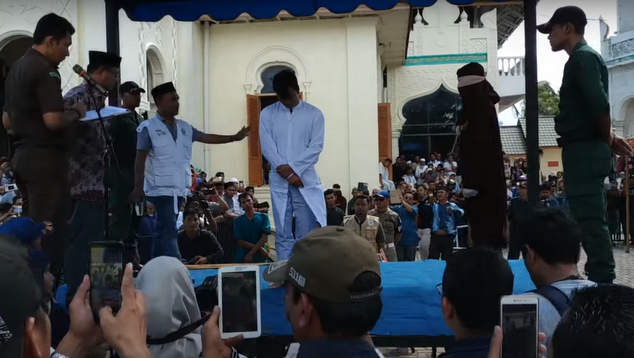 Outside a Mosque in Indonesia's Aceh province a young man stands in front of a crowd of hundred of onlookers, he wears a traditional white koko shirt, and stands as a hooded man hits him with a cane. A police officer counts each stoke and the crowd cheer after each stroke hits the man's body.
People film the punishment on their mobile phones. At times the punishment stops and the man is allowed a sip of water. When the hooded man becomes tired from striking the man, another hooded man takes his place, with a fresh arm the strokes have a renewed vigour and the man winces in pain.
On Friday two men were caned in front of the Baiturrahim Mosque in Banda, the capital of the Aceh province in Indonesia. While homosexuality is not illegal in Indonesia, the Aceh province operates under a different set of laws, strict religious based laws.
The two men had been found guilty of having consensual homosexual sex. Their punishment was 86 lashes, originally the two men were sentenced to receive 90 lashes, but it was reduced because of the four months of jail time the pair have served while awaiting the punishment. They were among a larger group on people who faced capital punishment on Friday. The floggings were held after Friday prayers.
Alongside the two gay men who received the harshest sentences, nine people received 26 lashes for committing adultery or showing affection in public, and four people were given 27 lashes for being drunk or selling alcohol. One of the people being punished for alcohol offences was a woman.
In a video, seen by OUTinPerth, the punishment is clearly being held in public view despite the country previously declaring the in would move punishments into the prison rather than forcing public spectacles.
The order to stop holding public floggings came from the region's Governor Irwandi Yusuf. He was arrested earlier this month on charges of corruption, and the military police said they were unable to follow his previous orders to stop pubic punishments because the procedures had not yet been fully developed.
Human Rights groups have condemned the practice and called on Indonesia's government to stop them occurring.
OIP Staff
---