UN expert highlights "rampant surge" of LGBT hate crimes in UK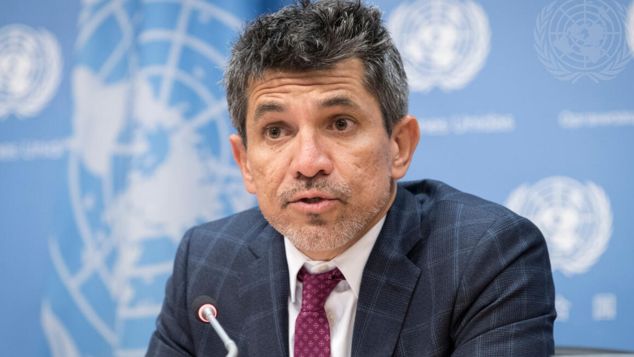 The United Nations Independent Expert on protection against violence and discrimination based on sexual orientation and gender identity has raised concern about the growing level of hate crimes and discrimination faced by transgender people in the United Kingdom.
Concern has been raised over a "rampant surge" in LGBT hate crimes in the country and "abusive rhetoric" from politicians that trickles down into society. The report did not cite any specific politicians but did reference the UK government's decision to black gender reforms in Scotland.
Victor Madrigal-Borloz was appointed to the role at the United Nations in late 2017 and he's visited many countries around the world looking into how LGBTIQA+ people are treated.
Madrigal-Borloz said he was concerned at the levels of misinformation feeding political, social, and legislative debates around legal recognition of gender identity.
He noted that while people in the United Kingdom benefited from news media and information channels with strong freedom protections, these same channels were also being used for spreading anti-trans discourse and stereotypical imagery of LGBT persons as dangerous, often employing homophobic and transphobic rhetoric.
The report said that this discourse trickled down through society to harassment, threats, and violence directed at LGBT people, including a rampant surge in hate crimes.
"Across the UK, civil society and public officials informed the Independent Expert that such abusive rhetoric by politicians is trickling down and facilitating increasingly abusive and hateful speech in the social media, which in turn seems to be spurring rapid increases in the frequency of bias-motivated incidents of harassment, threats, and violence, including rampant surges in hate crimes.
The report highlighted that despite the government releasing a report in 2020 that showed that the majority of the population supported removing barriers to people who wanted to change their gender, including a requirement for a psychological diagnosis, the government had ignored the advice.
" While removing some administrative barriers and lowering costs, the Government nonetheless retained a system that requires a psychiatric diagnostic that no longer exists in the International Classification of Diseases of the World Health Organization, as well as proof of life in the affirmed gender for two years, and evaluation by an external committee composed of legal and medical professionals." the report said.
Madrigal-Borloz also noted that transgender people struggled to get access to suitable healthcare, and while the government had been trying to reform their system with the roll out of new regional clinics, people were still facing log wait times to see health experts.
The report said this barrier to timely care was having negative consequences for people's mental health and their ability to move on with their lives. The UN expert made a special note of the resilience of LGBT people who faced significant discrimination.
"At the end of the visit, the Independent Expert stands in awe of the courage, resilience, resourcefulness and joy that he witnessed in his exchanges with lesbian, gay, bisexual, trans and gender diverse persons, LGBT-led and LGBT-serving organizations, all of whom carry out their lives and their work in the United Kingdom under the extreme pressure and hostility of a public debate which, today, questions rights that are directly connected with their dignity and, in some cases, their very existence."
Official figures released by the UK government in October 2022 showed a 41% rise in the of hate crimes directed at LGBT people with 26,152 crimes being reported. When it came to hate crimes directed towards transgender people there had been a 56% increase to 4,355 incidents.
The government has suggested the rise in hate crimes may not be due to a rise in LGBT directed hate, but rather due to improvements in improvements in the recording process and people feeling more confident to report crimes.
OIP Staff
---
Do you need some support?
If you are struggling with anxiety or depression, support and counselling are available from:
QLife: 1800 184 527 / qlife.org.au (Webchat 3pm – midnight)
QLife are a counselling and referral service for LGBTQIA+ people.
DISCHARGED: [email protected] / discharged.org.au
Discharged is a trans-led support service with peer support groups for trans and gender diverse folks.
Lifeline: 13 11 14 / lifeline.org.au
Beyondblue: 1300 22 4636 / www.beyondblue.org.au
---

You can support our work by subscribing to our Patreon
or contributing to our GoFundMe campaign.