On The Spot @ Milk'd in North Perth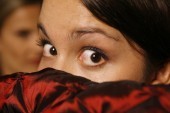 Analisa Bell
What's your favourite tune?
Every Little Thing She Does Is Magic by The Police
If you could sing a duet with anyone who would it be?
Jewel, we'd sing a show tune.
Where was your last holiday?
My last holiday was to Paris, it was the inspiration for my new show.
What film has made you cry?
So many films have made me cry, but my all time ball-a-thon is a film called Yesterday which is set in Africa and is about a husband how cheats and contracts HIV, and then so does his wife.
What's Your greatest achievement?
I'm heading to New York in August, because one of my previous shows has been booked for a club in Manhattan.
What's your favourite book?
Chocolat by Joanne Harris