30 Years Service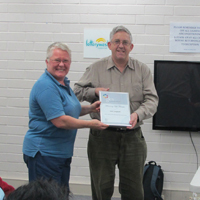 For 30 years, Perth resident Colin Longworth has manned the counselling helpline at Gay and Lesbian Community Services, helping people work through problems related to sexuality and gender.
Longworth is the longest serving current member of this essential organisation, having volunteered since October 1981. Back in 1974, the Campaign against Moral Persecution (CAMP) set up the telephone counselling service, known then as the Homosexual Counselling and Information Service. Over the past three decades, Longworth has witnessed the change throughout society including the WA gay law reforms of 2001/2002.
Gay and Lesbian Community Services is now Western Australia's main service provider for gay, lesbian, bisexual and transgender community which includes the telephone counselling service. Longworth was lost for words when he tried to sum up his experience at the organisation. Looking back over the past three decades at GLCS, he noted that it was still tough for some groups of people in the LGBT community.
'It's still difficult if you're coming from a strongly religious background; if you come from a number of ethnic backgrounds you'll find it difficult,' Longworth said.
For Longworth, the decision to volunteer his time to this vital service in WA was simple.
'I suppose it was a case of, I knew what I had been through coming out and I thought if I could make it easier for other people, well so be it.'
GLCS counselling and information telephone service is available from 7-10pm weeknights on (08) 9420 7201.
Benn Dorrington
***