Attorney General rejected Solicitor General's advice on plebiscite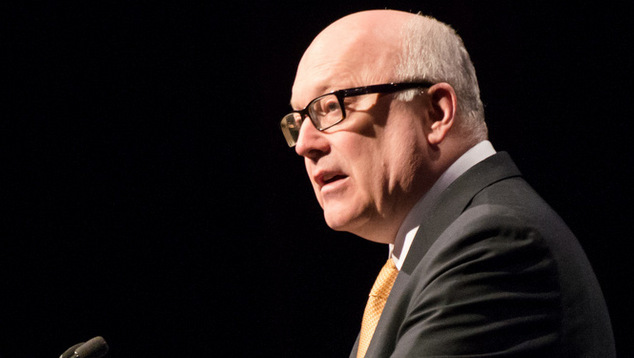 Attorney General George Brandis has denied that there is a rift between him and the nation's Solicitor General. (SG)
However it has been suggested that a disagreement over marriage equality legislation advice was a catalyst for the public disagreement that was exposed earlier today.
The Sydney Morning Herald has revealed that the disagreement between the nation's two top lawyer experts intensified after Senator Brandis reportedly dismissed advice from the Solicitor General regarding the government's plebiscite legislation.
Earlier this year the Senator Brandis ruled that all government ministers would have to seek his permission before approaching the Solicitor General for legal advice.
Senator Brandis has said that he consulted with SG Justin Gleeson SC before making the declaration, but the Gleeson has written to a parliamentary committee saying he was not consulted.
The opposition is calling for the Attorney General's resignation claiming that he mislead parliament when he was asked about his consultation with the Solicitor General. A charge the AG is strongly denying.
Fairfax Media has reported that the working relationship between the two began to unravel when Senator Brandis sought legal advice from David Bennett, QC – who served in the role SG role during the Howard government.
Senator Brandis is said to have dismissed advice from the current SG in favour of external advice that offered a different outcome.
Legal experts have raised concern that the government is "shopping around" for legal advice that matches political needs rather than listening to the Solicitor General's advice.
Shadow Attorney General, Labor's Mark Dreyfus said Senator Brandis had lied to the Australian people and the Australian parliament and said he should resign.
"He has no choice but to resign. If Senator Brandis does not resign, then Mr Turnbull must show some leadership and sack Senator Brandis," Dreyfus said.
Senator Brandis said while he and Gleeson had walked away from the meeting, where Senator Brandis believed adequate consulation had occurred, with different interpretations of what had occurred. Senator Brandis said they had a good working relationship.
The Attorney General said his Labor colleague was overstating the significance of the issue.
"Mr Dreyfus always overstates the case, in the manner of a very unskillful barrister. Mr Dreyfus always overstates his case. The number of times that Mr Dreyfus has made hysterical claims that he then can't back up – I've lost count of." Senator Brandis told reporters.
The image of Senator Brandis was created by Flickr user CeBIT and is published under a Creative Commons 2.0 license.