Australia Celebrates First Same Sex Marriages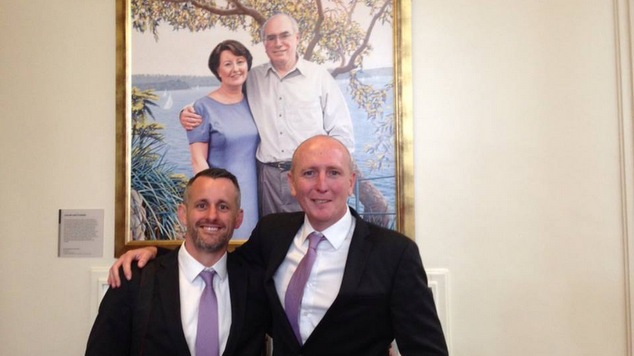 Australia saw it's first legal same sex marriages occur over the weekend when the Australian Capital Territory's laws came into effect at midnight on Friday. Sixteen couples were wed on the laws in front of Parliament House.
Amongst the first to take their vows was Western Australian couple Dennis Liddelow and Stephen Dawson.
Liddelow, a well known former DJ and Dawson, Labor's MLC for the mining and pastoral region, posted a cheeky picture to social media showing them standing in front of a portrait of former Prime Minister John Howard and his wife Jeanette.
Also amongst the same sex couples to wed was Ivan Hinton, the deputy director of Australian Marriage Equality who married his longtime partner, Malaysian born Chris Teoh.
The future of the marriages is uncertain with the High Court set to rule on the validity of the ACT's legislation later in the week. The Abbott government has challenged the ACT's move, deeming it unconstitutional.
The ACT's Liberal Opposition Leader, Jeremy Hanson has said that the  marriages should not have been allowed occur. Mr Hanson has said he is ambivalent about the issue of same sex marriage but feels it is a federal issue. Mr Hanson has told reporters that he is worried about the effect the High Court decision might have on people who have married during the five day window between the legislation being effective and the court handing down it's verdict. Mr Hanson has said he is confident it will be overruled.
The ACT's Chief Minister Katy Gallagher has defended allowing the marriages to occur stating; "the world will go on."
"This doesn't effect those people who don't agree with it. It doesn't change their life, it doesn't change their relationships. This is all about making sure everyone is treated equally before the law," Gallagher said.
A total of 47 couples have registered to marry to date.